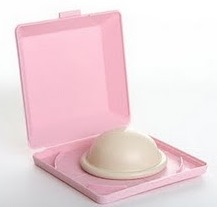 After a prolonged hiatus, during which diaphragms became as scarce as Elaine's treasured sponges, the Ortho All Flex diaphragm is back, and it's now latex-free.
The over one-year (at least in my area) shortage happened as the manufacturer transitioned from the old latex to new silicone diaphragms, and suppliers everywhere began backordering this important barrier contraceptive.
I called Ortho today, and was informed that the new diaphragms have been available for a few months now. I checked with my local pharmacy, and they advised me they could get a size 75 within 24 hours. At online pharmacies, diaphragms sell for $40 to $50. You'll need to restock spermacidal gel at a price of about $15 a tube (good for 30 or so uses).
Milex also makes non-latex diaphragms (arcing spring and wide seal), but these diaphragms must be ordered by your doctor from Cooper Surgical, as opposed to you filling the prescription at the pharmacy. I've been purchasing these diaphragms for my patients for the past year, and will continue to use them for patients whose anatomy calls for the added secure fit of the wide seal or arcing spring.
These days, it seems I rarely prescribe the diaphragm — most women seem to prefer other methods. In my younger years, the diaphragm was a very popular method. It's a good option if you don't want to or can't take hormones. Efficacy ranges from 84 to 94%, but in motivated couples who use it properly (Mr TBTAM and I were in that group for years), the diaphragm can be extremely effective. It only works if you use it properly every time you have intercourse, so if that's not you then look elsewhere for your birth control.
Don't use the diaphragm unless you know your partner is HIV negative, since the method requires the use of spermacides, which can increase HIV transmission from an infected partner. Although most women use it without problems, users of the diaphragm have a slight increase in vaginal infections and urinary tract infections.
For more information and to see if the diaphragm is right for you, visit Planned Parenthood's "Diaphragm" webpage.
*This blog post was originally published at The Blog that Ate Manhattan*