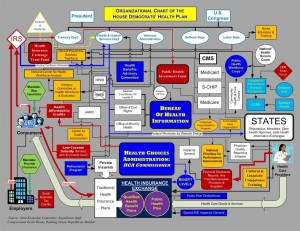 From a health perspective, I am grateful to be doing well. I have only one active medical condition that is fully treated by one prescription medicine. I have been taking this medicine since I was 18 years old. I recently bought myself a personal health insurance plan (my first that was not tied to employment) and simply wanted to resume regular purchase and use of my medicine.
I was pleased to note that purchasing my medicine through the new insurance plan would save me a little bit of money (about $25/month). So I presented my card at the local pharmacy and was told that my medicine was not covered under my plan without pre-authorization from my doctor. I called my pharmacy benefits hotline and had them send a pre-auth form to my doctor. Then I asked him to fill out the form and fax it back. That was over three months ago.
When I called to inquire about the pre-auth forms, the benefits folks told me that they had no record of the fax. So I asked my doctor to send another fax form and I waited another week. When I called the benefits people, they again said that they had no record of the pre-auth documentation. They also said that I could not be transferred to the pre-auth team to figure out why it was missing (wrong fax number perhaps?) because they only speak to providers.
So out of curiosity I asked what the usual process was for obtaining a prescription medication once it has been authorized. The benefits staff didn't know. I asked who would know and they said that only the "experts" in the pre-auth department know how medications are obtained by the member after being approved. I wondered how I'd ever figure this out if I wasn't allowed to speak to them and I was told that I might be able to get an answer if I asked a customer care representative to request information on my behalf from the pre-auth experts. But… the pre-auth team was not in the office at the moment and I'd need to call back on Monday. (Parenthetically, the team is physically located in Pittsburgh, Pennsylvania, though I'm a member in Charleston, South Carolina.)
I asked the benefits team if they generally mail members their meds (I had heard this was the case) or if I could pick them up at my local pharmacy (my preference). They said they didn't know, but I could call customer care on Monday.
So far, my experience with my new plan – to save $25 dollars/month on one prescription – has cost me 3 months and 1 week of waiting time, two form completion episodes with my doctor, discussions with several pharmacy benefits reps in a state far away from where I live, denial of communication with the only people who know what's potentially holding up my prescription approval, and about a half hour of completely unhelpful discussion of basic prescription drug purchasing processes that staff at the drug benefits company themselves don't understand.
And I'm healthy, I'm a healthcare provider who knows how to navigate the system, and I only need one prescription. What do sick people do? (I know, it's awful out there.)
Life was much simpler when I paid for my medication out-of-pocket without an insurance middle man.  I have often wondered if health insurance bureaucracy is purposefully designed to wear patients down to the point where they'll just pay for things themselves rather than experience the pain associated with getting an insurance company to cover their portion of the cost. (The only other explanation is that health insurance company ineptitude comes from being administrative behemoths with too many moving parts and processes).  It's probably a mix of the two. Or maybe the latter supports the former so there's no real incentive to pursue true efficiency.
But one thing I did notice – the insurance company was incredibly efficient at figuring out how to direct debit my premiums within 24 hours of signing up for the plan, and have increased my premium once already – by about $25 a month.
You can't win, my friends.
If you're healthy, get yourself a high deductible plan, pay as little in premiums as possible, and sock away some money in case of a catastrophic event. Pay cash for your primary care, and do whatever you can to stay healthy and out of the hospital. That's my plan and I'm sticking to it.
***
Update: My medicine was finally approved/authorized, but I was informed that my doctor would need to send a new Rx form to them before I could receive my prescription. The Rx needed to be on their company's form, so they had to fax him the request first. I asked how I would pay for the prescription and where I could pick it up and was informed that I'd save about 15% if I agreed to have the medicine mailed to my home (but delivery would take 2 extra weeks).
So I agreed to have it mailed to my home and offered to give them my credit card. They said I should call back with it once my doctor's Rx had been received. I asked them how I would know when that had occurred. They said that they couldn't call me to tell me when the Rx had arrived because I had selected "text messaging" as my preferred method of contact, and they don't inform members of Rx form receipt via text messaging. So I agreed to switch my preference to calls (instead of text), and now I'll probably get automated prescription refill information in the form of incoming calls on my personal work phone from now till I die. That's if they don't sell my phone number to telemarketers in the mean time.
And how annoying is it for my doctor to have sent out two faxes and one new Rx form for ONE prescription (not to mention reading the email explanations from me regarding correct pharmacy benefits plan form usage)? He was uncompensated for his time in this matter…