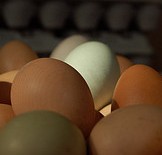 Enriched chicken feed may have resulted in eggs having less cholesterol and more Vitamin D than previously measured, reports the U.S. Department of Agriculture (USDA).
A large egg today has about 185 milligrams of cholesterol, down 14 percent from 215 milligrams in 2002, according to new research from the USDA's Agricultural Research Service, reports USA Today. Also, an egg today has 41 international units (IUs) of Vitamin D, up 64 percent from 25 IUs measured in 2002. (That's still only about 7 percent of the 600 IUs recommended per day.)
The agency regularly does nutrient checks on popular foods, this time analyzing eggs taken from store shelves in 12 locations around the country. The American Egg Board said in a press release that hen feed is made up mostly of corn, soybean meal, vitamins and minerals. Nutrition researchers at Iowa State University are also looking into reasons why cholesterol in eggs is decreasing.
The government's "Dietary Guidelines for Americans" recommend that most people eat less than 300 milligrams of total dietary cholesterol a day, and people at a high risk of cardiovascular disease should eat less than 200 milligrams a day. The average American man consumes about 337 milligrams of cholesterol a day and the average woman consumes 217 milligrams, reports the Los Angeles Times.
One egg a day fits within the average, healthy American's diet, reports WebMD, citing research funded by the Centers for Disease Control and Prevention and by the American Egg Board — owners of the slogan "the incredible, edible egg."
*This blog post was originally published at ACP Internist*