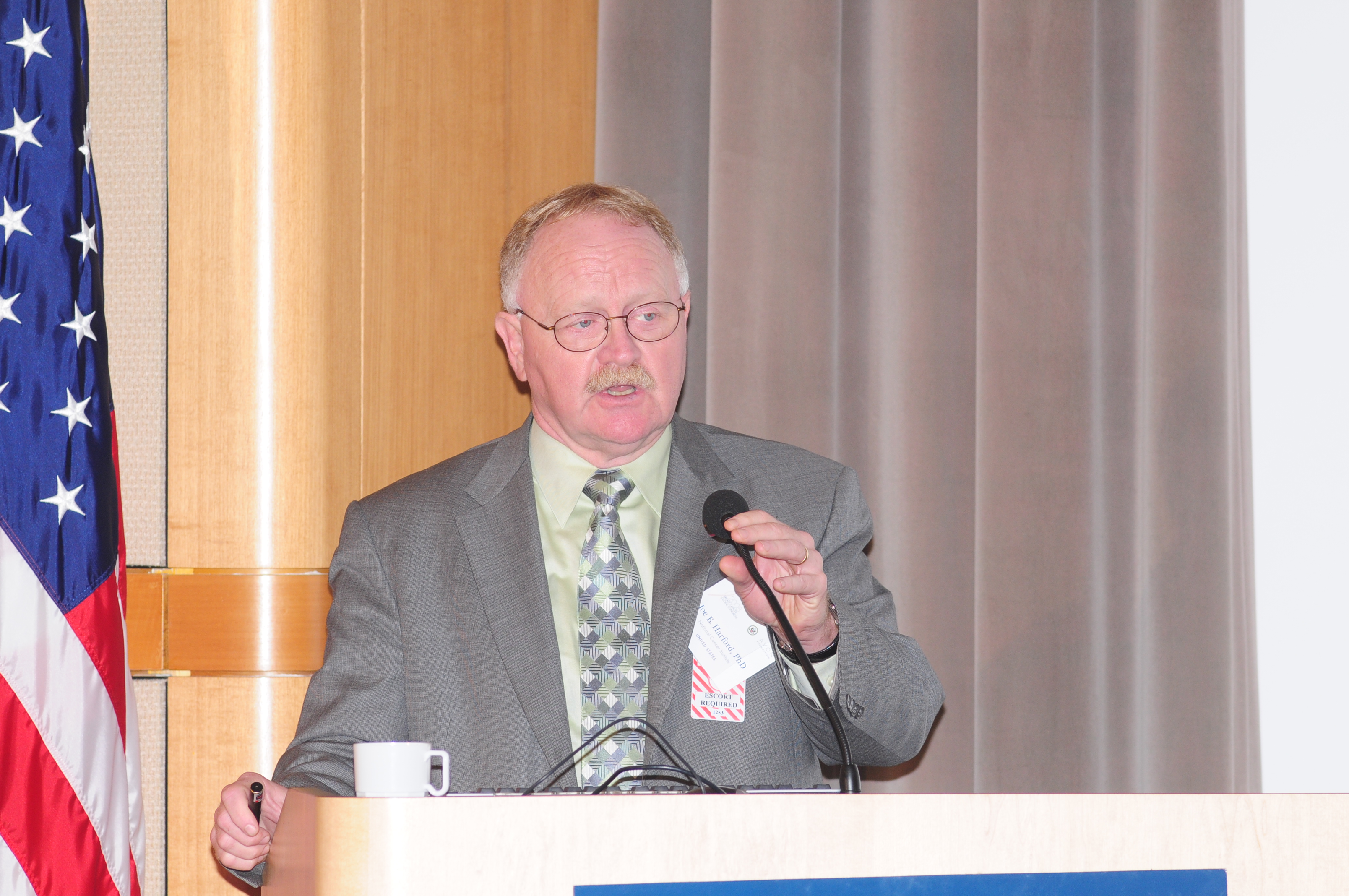 Even though I live in DC it was my first visit to the Department of State. I was surprised by the level of security (I passed through 2 metal detectors to get to the conference) and the multitude of languages spoken by the attendees. Many were wearing headphones, which were connected to a translator service. The lectures were rapidly translated into the various languages of the audience members (the way it would for the United Nations meetings), though I enjoyed the ability to listen directly to the speakers in my native tongue.
I was able to interview a keynote speaker, Joe Harford, Ph.D., the Director of the Office of International Affairs, of the National Cancer Institute. Here's what he had to say:
Dr. Val: Why is the risk of breast cancer (in the US) greater now than in previous generations?
Dr. Harford
: The main cause of the increase is related to changes in reproductive patterns within the population as a whole.  Women who have fewer children (and later in life) tend to have higher risk of breast cancer. This is associated with hormones – the breast is a hormonally responsive organ and breast cells that convert to tumor cells also have hormone receptivity. Pregnancy and breast feeding are protective for breast tissue. Women can check out their risk for developing breast cancer by filling out this
short, online assessment tool
at the NCI.
Dr. Val: Why does the United States have the highest rate of breast cancer in the world?
Dr. Harford: As a population, American women are more likely to have fewer children and at an older age. At the National Cancer Institute, each time we had found a "breast cancer hot spot" in the US, it turned out that the women in that particular area had fewer children on average. For example, there was a particularly high incidence of breast cancer on Long Island and in Marin County, California. We were concerned about it and wondered if there was any possible environmental risk associated with living in those areas. But what we found was that most of the increased risk could be accounted for by a lower birth rate and decreased breast feeding in those populations.
Dr. Val: In your lecture you mentioned that women in Africa usually see a physician when their cancer is very late stage. Why do they wait so long to get treatment for breast cancer?
Dr. Harford: More research is needed to determine the exact reasons, though there are many contributing factors to this phenomenon. First of all, treatment is expensive and women may not be able to afford it. Healthcare in Africa is most often payed for by the patients, who may be too poor to pay. Secondly, there's a sense of fatalism about the disease. In certain Arabic-speaking African nations, people believe that getting cancer (or not) is God's will – they don't see it as under their control as an individual. Thirdly, women may fear being ostracized in some way if they let others know they have breast cancer. For example, in some villages people believe that breast cancer is contagious and will require the woman to leave her home to "protect" the family from becoming diseased. There's a complex stigma associated with breast cancer. Fourthly, women in Africa might choose to see a traditional healer and not go to see a western physician. Finally there is an absence of role models – most women in Africa have never known another woman who's had breast cancer and lived to tell about it, so they don't think to get early treatment.
Dr. Val: Is the alternative medicine movement in the US delaying cancer care? Do you think that people are choosing to try "natural" methods before going to see a physician?
Dr. Harford: There may be some element of that. But in the US I think we tend to use "alternative" medicines in a more "complementary" manner. So we'll take "immune system boosters" and "mushroom extracts" along with the scientific therapies rather than exclusive of them. For cancer in general, the major driving force behind the attraction to Complementary and Alternative Medicine (CAM) is the fact that there's a whole set of cancers for which we don't have good treatment options. If we had better drugs and treatments, some of the CAM folks would be driven out of business by virtue of the fact that there's an alternative that works. Unfortunately right now if you have liver cancer or pancreatic cancer there isn't much we can do for you. The good news for breast cancer is that 5 year survival is now 90%. The bad news is that 40,000 women die per year in the US of breast cancer. There is more research and more work to be done.
***