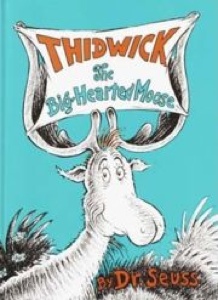 When I think of the plight of primary care practitioners, particularly in the light of today's discussion of healthcare reform, I often think of a Dr. Seuss book. My mother read it to me as a child recovering from the chicken pox.  I read it to my two sons when they were young. And I encourage you to read it too, even if you're an adult. The book is entitled Thidwick The Big-Hearted Moose. To me, this 1948 story almost perfectly mimics  the overburdened lives of  primary care physicians and the innumerable squabblers who've come along for the ride in the misguided world of healthcare.
For those who haven't read Thidwick, here's a recap of the story: Thidwick is a kind "big hearted" moose blissfully grazing with the rest of his herd on Lake Winna-Bango, minding his on business. One day a Bingle Bug asks if he can ride upon Thidwick's enormous antler rack for free.
This gracious and benign act starts a domino effect. Next, the Bingle Bug invites a Tree Spider aboard, and then they both accept a Zinn-a-zu bird horns.  Soon other creatures, from the Zinn-a-zu bird's wife to a woodpecker, who takes no time drilling holes in Thidwick's horns, to four squirrels ask the same and hop aboard the antlers. At this point, Thidwick's herd abandons him. The hitch hikers invite friends and family, including a turtle, bobcat, three mice, a bear, and 362 bees to share in their preferred status. Before long the critters create their homes and a riotous ecosystem in the antlers.
Then the demands start. "Go this way," shouts one.  "Get into the shade," cries another. "No, that's too cold, move into the sun," says the third. Their demands escalate.  Thidwick feels overwhelmed, under appreciated, burdened down and gridlocked over conflicting commands.
As I recall this favorite tale of mine, I understand the not so subtle metaphors to the current healthcare system. As a primary care physician, I see the creatures who've leeched onto the doctor's antlers. The squirrels are akin to the patient, care free but needing protection.  The spider resembles third-party insurance, venomous with its sticky, web of complicated codes, and rejections entrapments.  The bees represent the measures and documentation needed to avoid the stings of malpractice.  The chirping din of birds that nest in Thidwick's antlers remind me of hours in  office staff meetings with receptionists, schedulers, and clerks who do insurance functions but need to be paid by the doctor. And lest I forget, the fleas and ants seem to be the  P4P measures, the EMR gurus, the productivity pay czars. On it goes.
Too, there is the fact that Thidwick's clan has rejected him, just like much of medicine has rejected the family practitioner.  He's ostracized for not being special enough, criticized for having too much diversity, scorned for his kindheartedness and inability to make the "big bucks."  Listening to freeloaders off the antlers annoys everyone. Most see Thidwick as outdated. They leave him high and dry whenever possible.
Yet the tale has an unexpected ending: Winter is coming to Lake Winna-Bango. The instinctual calling to migrate urges Thidwick, but his squatting guests will have none of it, out voting his desires by  "eleven to one."  With hunters arriving and eyeing up his antlers "for the Harvard Club wall," the Big Hearted Moose remembers that it is time to shed his rack leaving the cabal behind and to the mercy of the hunters. The squatters' fate is not what they expected; they, along with the antlers, are stuffed and mounted.
In 2002, I left my antlers behind along with its numerous creatures and started DocTalker Family Medicine.  I stopped listening to the cacophony in the antlers loaded with countless conflicts of interests between a doctor and a patient. As the medical "expert" I stopped waiting for someone else to fix MY problem or to tell me how to do my job. I stopped listening to others telling me they know what's best for my patient, an individual they don't even know.
Ours is a primary care practice that offers 24/7 access whenever the patient needs care, and however the patient needs to access us (phone or email, in our offices, or by house call). We do not take third party insurance or even Medicare, asking instead that our patients pay as they go and only for the time that they have spent with us, keeping prices transparent and affordable. And so, we've little need for those pushy squatters, and can do things our way – and more importantly, our patient's way. Thidwick's story written at the inception of the industrialized health care system was a harbinger of what would predictably occur and forever will remain in primary care and our patients to those who fail to heed its warning.
Until next week, I remain yours I primary care,
Alan Dappen, MD