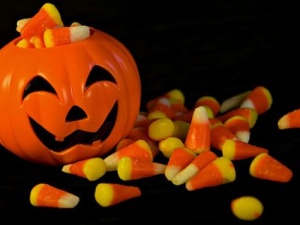 My friend and fellow blogger Kerri Morrone Sparling (at the Six Until Me blog) was diagnosed with type 1 diabetes when she was in second grade. The diagnosis came a few short weeks before Halloween, and back then she didn't realize the risks of sneaking candy bars behind her mom's back.
Now that Kerri's grown up, she has some excellent tips for parents of children with type 1 diabetes (or frankly, for anyone who wants to enjoy Halloween and manage their diabetes). You should check out her video blog on the subject here.
Some tips include:
1. Focus on the costume part of the holiday, not the candy part.
2. Make some "candy" corn with Splenda, Equal or a sugar substitute. Enjoy the salty-sweet treat instead of a Snicker's bar (for example).
3. Work in a small amount of candy into your diet plan. Eat a half a candy bar during a period of high activity, for example, and the sugar spike will not be so bad.
Please check out Kerri's post for more tips!
***
And for a good laugh about candy, check out The Onion's headline here.