Here we go again. And believe me, as one who's covered the artificial heart experiments of the 1980s, I feel like I've been through this countless times before — but so have health news readers.
Another entrepeneurial team announces hopes for its artificial heart device and some news coverage trumpets the company's announcement: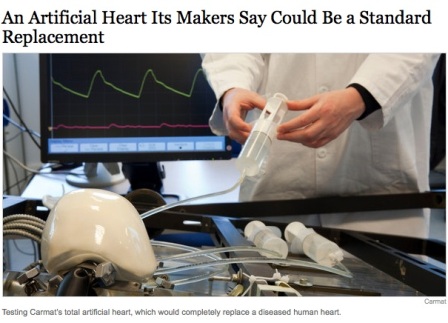 But this was in The New York Times! Now, granted — it's in a "Global Business" section. But we don't see why that removes the need for more scrutiny, for independent perspective, and for a better discussion of evidence.
The story begins:
"It is a long-held dream: an artificial heart to replace one that is damaged or diseased. Now, a French company says that it has the technology to make the implantation of it a standard surgical procedure."
But the story never scrutinizes what the company says — except to say: "While the sales pitch may make for a compelling story, as with any start-up, there is no guarantee that the enterprise will succeed." But that's about business prospects. It's not about the science and the evidence.
"The company hopes to start human testing in France by the end of next year and to bring the technology to the market in Europe in 2013."
On the one hand, we got somewhere with that sentence — human testing hasn't even begun. On the other hand, we let the company get away with projecting widespread marketing within 3 years! What is that based on? Besides a company's hope and a prayer?
It was good that the story reminded readers of other devices either already approved or in development.
It concluded with the company's chief executive estimating the:
"… the potential market at "a minimum" of 100,000 patients a year in the United States and Europe. However, he said cost constraints meant it was unlikely that more than one-tenth of those patients would actually receive an artificial heart."
And that cost was estimated elsewhere in the story:
"When all expenses are considered, including hospital and surgical expenses, it says it will cost just over $315,000, about the same as a transplant."
Let's remember to "be still, my beating heart" and to scrutinize the enthusiasm of a company — maybe until it has experience with, say, at least one human experiment. I remember some of the breathlessly enthusiastic news coverage of experiments with Barney Clark, Bill Schroeder, Murray Hayden and others with the Jarvik-7 artificial heart in the '80s.
Has journalism learned anything about coverage of artificial hearts in 30 years?
*This blog post was originally published at Gary Schwitzer's HealthNewsReview Blog*