This is a guest post from Carolyn Thomas: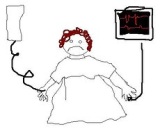 An Open Letter To All Hospital Staff
Dear hospital employees,
After a particularly bizarre experience undergoing a treadmill stress echocardiogram at your hospital recently, I decided to do something that I have never done before: I called the manager of the cardiology department to complain about her staff. (Incidentally, a recent opinion survey of international tourists found that Canadians were #1 in only one category: "Least likely to complain when things go wrong" — so you can appreciate that lodging an official complaint is a fairly big deal here!)
In my best PR fashion, I told the manager how distressing the appointment had been because of the behaviour of the two cardiac technicians in the room. It's not so much that they were openly rude, but it was their insufferable lack of people skills that had pushed me over the edge. No introductions, no eye contact, no consideration of how awkward this test can be, no explanation of  the test procedures or even the flimsiest effort at polite conversation. To them, I was merely the 1:00 o'clock appointment, the obstacle between them and their next coffee break, just a piece of meat on a slab — but worse, an invisible piece of meat.
(And by the way, the next time I'm ordered to strip to the waist in front of a strange man, he'd better buy me dinner first.)
The department manager was very receptive to my phone call, particularly since mine was her second complaint in less than a week. She followed up immediately with her staff, returned my calls promptly, and even solicited my input about how patient care in her cardiac department might be further improved.
To this end I offered her the following tips, and if you substitute cardiology-speak for emergency, gynecology, oncology, radiology, renal, day surgery, or the hospital department where you work every day, I suspect these tips may be universally useful.
Carolyn's Top 10 Tips on How to Treat Your Patients
1. Acknowledge the existence of arriving patients by saying something like: "Hello.  How are you? My name is ____ and I'll be doing your ___ procedure today."
2. Make eye contact when you are speaking to another human being.
3. Just because you do these same procedures day in and day out routinely, do not make assumptions that patients know anything at all about the procedure that's about to be done to them.
4. These tests have been ordered because a cardiac event has already happened, is happening, or might happen in the very near future. This is extremely serious for most patients. There is no such thing as a "routine" cardiac test, especially once you've had a heart attack. Patients can feel nervous, worried, apprehensive, frightened, embarrassed, intimidated, vulnerable, highly sensitive, distressed or uncomfortable just thinking that there might be something (else) wrong with their hearts.
5. Say: "Today's test will start with ____, and then we'll do ____, and then finish up with _____." (I had never undergone a stress echo before June 15, for example, but I knew about this test only because when I was at Mayo Clinic in October, the staff at their Cardiovascular Diagnostic Center toured us through the echocardiography labs and explained the stress echo procedure in detail). Even for patients who already know, it's just common courtesy to review the information for them.  
6. Explain everything that is about to happen before you touch a patient's body. 
7. Then ask your patient: "Do you have any questions about today's procedure?" before beginning the test.
8. Stripping to the waist is not a big deal to most men, but it is a very big deal to women — especially with a man sitting in the same room (who has not even been introduced! Is he the tech? Is he the doc? Is he the janitor? )
9. Instead, immediately offer your female patients a private or curtained-off area to remove their clothing, a clean, folded hospital gown, and a surface to put their clothing on when ready, so they're not standing there half naked in a big room, clutching their clothes and underwear in front of two strangers, and wondering what to do next.
10. For helpful hints about how to treat patients with respect and politeness even in the most awkwardly embarrassing clinical setting, ask the hospital docs and nurses who do sigmoidoscopies/colonoscopies to give you some pointers.  These people are amazing — unfailingly considerate, pleasant, friendly and understanding — all qualities that go a long way to improve  patient care.
Your patient,
Carolyn Thomas lives on the West Coast of Canada. After a long career as an author, journalist, speaker, and PR professional, Carolyn survived a heart attack in 2008. She's a graduate of the "WomenHeart Science & Leadership Symposium for Women With Heart Disease" at Mayo Clinic — the only Canadian ever invited to attend this training.  She was also named by "Our Bodies, Ourselves" in Boston as a "2009 Women's Health Hero" — one of 20 inductees from seven countries honored for community activism in promoting women's health. Carolyn maintains two popular websites: Heart Sisters and The Ethical Nag: Marketing Ethics for the Easily Swayed.
Disclosures: None