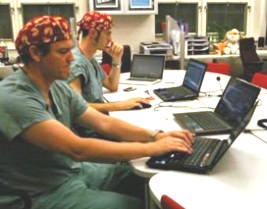 Just two weeks after we reported on teleanesthesia in the form of remotely-performed nerve blocks, the first report of transcontinental anesthesia comes in.
On August 30, anesthesiologists of McGill-McGill University Health Centre in Montreal, kept watch over a patient in Pisa, Italy, undergoing thyroid gland surgery. Basically they used a teleconferencing setup with four cameras, with two cameras streaming the anesthesia data (ventilation parameters and vital signs), one camera aimed at the operating field, and the last one for any special purposes.
All feeds were streamed to an "anesthesia cockpit" where the anesthesiologists were sitting, while we imagine there was probably still a nurse anesthetist around in Pisa to obey their commands and control the drips. Airway assessment and taking the medical history was also done using videoconferencing.
For their next step, the researchers are taking on a less technologically challenging issue: They will use teleconferencing for preoperative assessment of patients at their home.
Link@McGill: First Transcontinental Anesthesia World's first transcontinental anesthesia …
*This blog post was originally published at Medgadget*