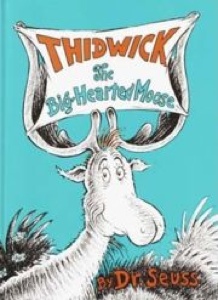 Introduction: To those readers picking up this series for the first time, here's a synopsis for you: Mrs. Doctor is a primary care physician who is in an unsavory marriage with Mr. Insurance. They care for their adult children (Patient 1, Patient 2, Patient 3…) with the following arrangement: Mr. Insurance will take care of all the financial requirements by paying Mrs. Doctor and to do all the caring and nurturing to keep the kids well.
Mrs. Doctor has come to realize that Mr. Insurance is a jerk and asks her to do more and more while giving less and less money for the care of the kids. Mr. Insurance refuses to see anything wrong with his relationship he has stonewalled all requests for marriage counseling. Mrs. Doctor began counseling on her own to ponder her dilemma through the impartial eyes and ears of a marriage and family therapist.
Her first assignment was to read "Thidwick the Big Hearted Moose" by Dr. Seuss and to report on her findings. We now pick up this mini-play based on a true story:

Therapist:  Judging from the condition of the book, I see you took your assignment seriously; I'd say you've read this thing a few times. I'd guess that children's literature and Thidwick had something to teach you."
Mrs. Doctor: I didn't finish college, medical school and residency to underachieve. Give me an assignment and I'll knock it out of the park.
Therapist: "What did you learn from Thidwick with his "big-hearted" spirit?"
Mrs. Doctor: It's an unmistakable allegory that I am in Thidwick's shoes, or should I say hooves.
Therapist: "What do you mean exactly?"
.
Mrs. Doctor: "Thidwick is a kind moose blissfully grazing though the tundra minding his own business. One day an innocent "bingle-bug" asks for a ride on Thidwick's horns. It's a simple request and without understanding it's significance, Thidwick says 'Of course…'
This benign act starts a domino effect. Soon the hitchhiking bingle-bug invites a spider to hop aboard. A Zinn-a-zu bird flies by and the hitchhikers comment that there's plenty of room in the antlers that's "free," so he starts building a nest. The domino-effect continues as the lifted-up guests have no misgivings in inviting friends, cousins and strangers to share in their "preferred" status.  Not wanting to make a fuss, Thidwick goes along with it all. But his growing misgivings are constantly tamped down by his big heart, which results in his horns housing a complex ecosystem of creatures. Eventually the confusion, noise and escalating demands wear Thidwick down and make him a pariah by the other Moose.  Thidwick feels increasing despair, overwhelmed, under appreciated, burdened down and gridlocked by conflicting commands.
Already Thidwick's peers have rejected him. He's ostracized for not being special enough, criticized for having too much diversity, scorned for his kindheartedness and inability to get rid of the pests. Most see him as outdated and old-fashioned.  His moose peers leave him high and dry.
Winter is coming. The instinctual calling to migrate urges Thidwick. But a cacophony of complaints and demands erupt from the antlers and freeze Thidwick anytime he veers South.  "Should I go, Should I stay?" And the menagerie consistently out vote him "eleven to one."
Therapist: Hold on, Mrs. Doctor. I see very well that you understand your plight in the metaphor of Thidwick. All the creatures represent things like Mr. Insurance, CPT and ICD 9 coders, office staff, billing specialists, contract negotiators, office consultants, EMR gurus and HIPAA police, just to name a few.
I see that you understand that your non-primary care colleagues consider you inadequate.  I see that you understand that your fellow primary care doctors pat each other on the back and commiserate about how tough you all have it and that you don't seem to have any alternative but to just grin and bear it because you consistently get out voted.   However I have one question: What am I doing?  (Therapist pointing his index finger at Mrs. Doctor like a hand gun trying to shoot her.)
Mrs. Doctor: "Thinking back to the story, I assume that you're referring to the fact that the hunters coming.  The other moose have migrated to avoid the oncoming winter but Thidwick cannot because all his hitchhikers who outvote him "11 to 1" to stay. He's an easy target."
Therapist: So what do you think I'm trying to get at with pointing a gun hand at you?
Mrs. Doctor:  Thidwick is in a real trouble and the hunters are all out to shoot him.
Therapist : "Not exactly. You've not grasped your dilemma fully so let me give you a hint with the well known expression, "The finger that points has three fingers pointing back at yourself."  Next week I want you to share with me why you are to blame for everything that is happening to yourself? Why do you ignore the three bullet holes riddling you?"
.
Until next week I remain yours in primary care,
Alan Dappen, MD