Aaron Carroll over at The Incidental Economist has been running an excellent series on healthcare spending in the U.S. and how much more we spend than the rest of the world on a per capita basis, as a percentage of GDP, and by category. It's an excellent series and I wholly recommend it. Summary graph: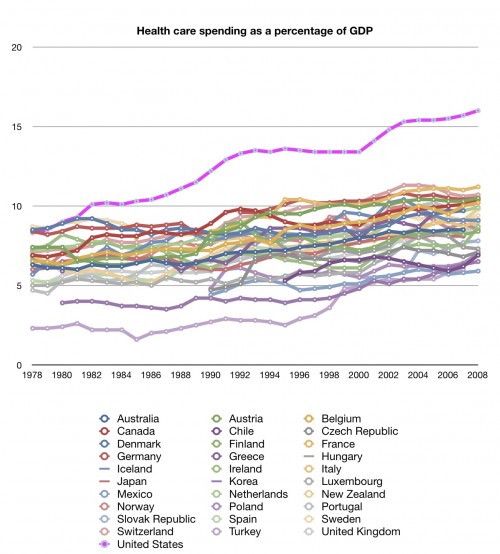 Hint: the U.S. is the lavender-ish line on top. As he says, is there anything about this graph that isn't concerning?
Also, here's a fun interactive tool which shows the same basic thing. Not that we didn't know that we spend tons more than everybody else on healthcare. That fact has been beaten into our heads over and over recently. What we want to know is why do we spend so much more than everybody else, with an eye to what we can do to bring the escalation of costs under control. So his conclusion? 
As the kids say on The Facebook: "It's complicated." It's not obesity. It's not Pharma's fault. It's not the trial lawyers. It's not overpaid doctors. It's not the insurance companies. It's all of these and more. It's that every element of our system costs more. All of these factors feed into the extra 7 percent of GDP that we spend on healthcare. Doctors do make more in the U.S. — but physician salaries are only a small slice of the excess spending: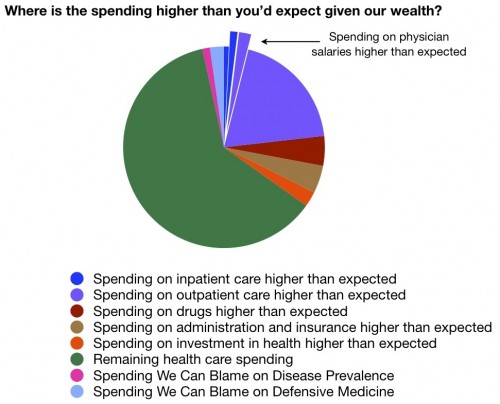 The depressing conclusion I reach when I look at these numbers is that any sort of a fix for this in our professional lifetimes has become vanishingly small. The Patient Protection and Affordable Care Act (PPACA) may make some small inroads into cost containment. Emphasis on "may" and "small." It certainly does not do enough. And after the rancid demagoguery from conservatives during the healthcare debate, and the price democrats are set to pay at the polls next month, what is the likelihood any politician will tackle this issue again during the next decade?
And this was a modest, moderate set of reforms patterned along the lines of those previously advocated by conservatives. We need sweeping change, and we got baby steps and half-measures. Worse, the republicans actually want to repeal the small improvements that PPACA makes. We need to fix, improve, and expand on the healthcare reforms, but the party (likely) in power wants to go in exactly the opposite direction. (Sigh.) We're so screwed.
*This blog post was originally published at Movin' Meat*