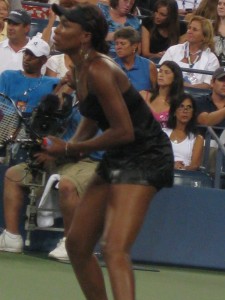 I was lucky enough to see Venus Williams play her first professional tennis match when she was a teenager.  It was obvious she was something special and her coach-father said "If you think she's good, wait until you see her little sister." (Serena Williams).
Venus and her sister, Serena have dominated women's tennis over the past decade but she is currently sidelined with a diagnosis of Sjogrens Syndrome. (pronounced Show-grins).  It is a chronic auto-immune disorder where white blood cells (immune function cells) target the body's moisture-producing glands.  Symptoms include dry eyes, dry mouth, extreme fatigue and joint pain.  Sometimes it co-exists with other auto-immune diseases like thyroid disease or rheumatoid arthritis.
Symptoms can wax and wane and getting the right diagnosis can take time.  I can imagine Venus going to her doctor and complaining of fatigue and dry mouth.  Considering her athletic schedule, she was probably told to get some rest and fluids.  The diagnostic key should have been the degree of fatigue that plagued her for years, coupled with the dry eyes and mouth.  Often the mouth is so dry, taste is affected and the lack of saliva can produce dental caries.
Although a blood test can reveal antibodies that go along with Sjogrens, some people have the disorder without showing blood abnormalities.  Sjogrens and other auto-immune diseases are complicated and diverse and the symptoms can flare up and then remit.  There are many "home remedies" that patients swear by, but the best place to start is with a rheumatologist who can both make the diagnosis and prescribe treatment to block the antibodies and relieve symptoms.
Venus believes she will return to tennis, and I would bet on her.  She is a major talent; graceful, athletic and fun to watch.
*This blog post was originally published at EverythingHealth*