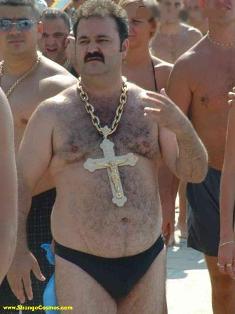 This past week I learned several new words and phrases. Allow me to share a few with you.
"Speedo sag" –- I learned of this phrase from a tweet from @BAAPSMedia:
Have just seen a cosmetic surgery press release about so-called "Speedo Sag"….Eww.
My first thought was the same as my OR crew, whom I polled. We all thought it had to have something to do with the parts of the male anatomy which should be covered by the Speedo, such as perhaps the scrotum. It doesn't.
I Googled it to find out. It has to do with the male's abdominal skin and fat which falls over the top of the Speedo. Apparently, they're looking for a male abdominoplasty:
Many of the men who want to get the tummy tuck (aka "Speedo sag" surgery) have lost weight or started a fitness plan and are looking for a surgery that can remove pockets of fat or loose flaps of skin from their stomach.
I would have called this the "spare tire" or the "dunlop," but not "Speedo sag." 
The above phrase gave us some risible moments in the OR.
MEANING:

adjective:
1. Laughable; ludicrous.
2. Disposed to laugh.
3. Relating to laughter.

ETYMOLOGY:

From Latin risus, past participle of ridere (to laugh). Other words that share the same root are ridiculous, deride, rident, and riant.
It hit me as I was writing this that the facial muscle risorius -– who's function is to retract the angle of the mouth to produce a smile — has the same etymology.
And now I hope you will forgive me for the above folderol, as I wish you many risible moments today.
MEANING:

noun:
1. Nonsense; foolishness.
2. A trifle; gewgaw.

ETYMOLOGY:

From a nonsense refrain in some old songs. The word is also spelled as "falderal."
*This blog post was originally published at Suture for a Living*