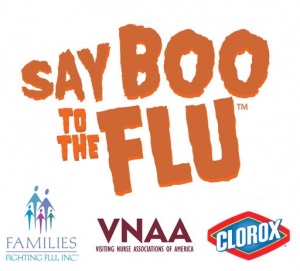 Most people assume that the flu is an inconvenience – an infection that causes a week of fevers, body aches, and discomfort. But it can be far more serious than that. In some cases, the virus can be fatal. I interviewed Joe Lastinger about the tragic loss of his 3 and-a-half year-old daughter to influenza. You can listen to our interview here.
Dr. Val: I'm so sorry to hear about your daughter's death from influenza. Can you tell me a little bit about the events that led up to it?
Joe: The events were pretty unremarkable, until she died suddenly. Emily was three and a half at the time and had just started pre-school. One day she came home from school and she was very tired. She wanted to take a nap. Normally she didn't take naps so we knew something was different. We took her to the pediatrician the next day and she was diagnosed with the flu. We were counseled to give her fluids, Tylenol and Motrin around the clock to control her fever, and to expect it to resolve in about a week.
However, Emily began experiencing more nausea a few days in. We contacted the pediatrician and she asked us a series of questions about her symptoms – but since she was urinating regularly, wasn't having bloody vomit, or any other serious symptoms we were reassured. The next day my wife was in the kitchen (near the bedroom where she had left Emily) and I heard her scream. She found Emily on the ground, not breathing. We called 911 and the paramedics were able to get her heart started. She was transferred to the local children's hospital, and was intubated. Unfortunately there was never any sign of brain activity and they slowly maxed out all the drugs they were giving her to keep her alive.
Dr. Val: Did the doctors tell you the exact cause of death?
Joe: The first thing we thought was that Emily must have had some previously undiagnosed condition. Maybe she had no spleen or was immunocompromised for some reason? The autopsy took several weeks but in the end her death was simply attributed to influenza A. Emily had not been vaccinated at the time, though the CDC didn't recommend flu vaccines for children back then. It never occurred to us that our child could die from the flu. Yet that same year, more than 150 kids died from influenza.
Dr. Val :How has Emily's loss affected you?

Joe: You know, I find it really awkward answering the simple question that people always ask: "How many children do you have." Should I say "4" but that I lost one – which opens up a can of worms – or should I say "3" and then live with the guilt of not acknowledging her life. Our daughter Anna was born 13 days after Emily died. So it was really tough, but a good distraction in a way.
Dr. Val: What sort of advocacy work do you do now?
Joe: We noticed that people were continually shocked when they found out that our daughter died of influenza. They just didn't believe that the flu could be fatal. So my wife and I thought it was important for us to raise awareness about the flu because it is a preventable illness through vaccination. I can't say for sure that Emily wouldn't have died if she'd been vaccinated, but I think it's likely that she'd still be with us. So that's an important lesson for all parents.
We were introduced to Alissa Kanowitz and the Families Fighting Flu through a researcher at the CDC. I now travel with the FFF around the country to educate parents about the importance of vaccinating their children against the flu. I've also been involved with the "Say Boo To The Flu" initiative.
Dr. Val: What's the most important thing that parents need to know about the flu?
Joe: Parents need to know just how serious this illness is and that it's preventable. Vaccines are safe and effective ways to protect children from what happened to Emily. There are things we do as parents as precautions: we put our kids in car seats, and get them to wear helmets when they're skateboarding. Vaccinating our kids is every bit as important as car seats and helmets.
Hand washing can reduce the risk of your child catching the flu, but it's hard to get young children to wash their hands and you can't always be there to remind them to do it. The great thing about vaccines is that they go everywhere your child goes.
Listen to the podcast with Joe.
***
In my next post, I'll interview Dr. Jon Abramson about flu vaccines and the looming threat of new strains of flu.