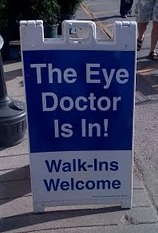 I snapped this picture of "The Eye Doctor Is In!" sign at my local Sam's Club. Who is this "eye doctor?" Are they a Dr. Nurse? Are they an optometrist? Are they a medical doctor? What is the difference between an optometrist and an ophthalmologist? The sign just says "eye doctor." Who is it? Who knows. What are their credentials? Who knows.
To practice optometry, an optometrist must graduate from an accredited four-year post graduate institution after completing at least three years of undergraduate preoptometry course requirements and then get licensed in their state of practice.
To practice ophthalmology, an ophthalmologist must graduate from an accredited four-year medical school after completing the 90+ undergraduate premedical couurse requirements, then complete a residency in ophthalmology which consists of an internship year in internal medicine or general surgery and three years or more of additional training in ophthalmology. Then they must get licensed by state authorities.
The lay public — the really lay public — has no idea what the state and federal licensing standards are for the different professional clinical training tracks.
There was  a time when I had no idea what the different requirements were for an RN, NP, PA, MD, JD, DDS, Pharm D, PhD, or any other professional degree. Most of the public has no idea how the whole higher education system works.
They have no idea that most physicians complete a four-year undergraduate degree, a four-year medical school degree, and a three-year residency with upwards of two to four more years of additional subspecialized fellowship training.
Most of the general public has no idea of the time committment necessary to earn a doctorate degree in medicine. They don't know how the educational committment of a Dr. Nurse is different from an optometrist is different from a veterinarian is different from a Pharm D. Why would they know? It's not something that has been well publicized.
For the Sam's Club/Walmart public, they probably have no idea who the "eye doctor" is. But I suspect they wouldn't care. They just want to be fixed.
The word "doctor" has no restricted meaning anymore. Through the decades, linguistic Doctor Creep has devalued the public's perception and interpretation of what it means to be a clinical doctor. I have many patients every day who call their NP or PA doctor. To much of the public, all training is the same. They don't care. They just want to be fixed.
While many clinical tracks offer a doctorate degree in their field, only physicians are clinical doctors, per say. I'm sorry to say Dr. Optometrist, you have doctorate degree in optometry. Linguistic Doctor Creep has made you a doctor.
Perhaps it's time for medical doctors to abandon the word "doctor" for good in favor of the word "physician" to publicize the difference between being a doctor and being the doctor. From here on out I shalt be known as "Physician Happy M.D." You can call me "Fiz."
And a word of advice to impress your friends: the word "ophthalmology" is pronounced off-thal-mol-ogy, not op-thal-mol-ogy, as it's often mistaken. Take the poll below and let the world know what you think:
POLL: If You Saw A Sign For "The Eye Doctor" At Walmart, Would You…
*This blog post was originally published at The Happy Hospitalist*