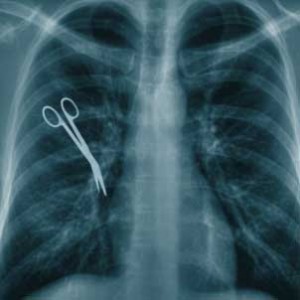 Alright, I admit that the title of this post is a little dramatic. But it really does seem that most people I know socially have had a bad experience with the healthcare system lately. Take for example my friend whose 3- year-old went to the hospital for a common pediatric procedure – the little girl was overdosed on a medicine, aspirated, got pneumonia, went into respiratory distress (noticed first by her mom) and remained in the pediatric ICU for several days. The hospital staff swept the overdose under the rug, and outright denied it happened when faced with direct questioning. As outrageous as that all is, my friend chose not to pursue action against the hospital and staff for their error and behavior. She just "let it go" because no permanent harm had occurred.
Another dear friend was recently misdiagnosed with having a pulmonary condition when he was in heart failure from an arrhythmia… and almost had a stroke during a contraindicated pulmonary stress test. His simple conclusion: "doctors suck." Was anyone held accountable for this? No. Again because no permanent harm had occurred.
Just the other night I was having dinner with some visitors from out of town. They both told me stories about their medical conditions and the treatment pathway that they had pursued. Neither had been treated with evidence-based care, and I noted several clinical missteps that could have harmed them both along the way (things like ineffective or contraindicated medications, recommendation of unnecessary procedures, outdated treatment algorithms, etc.) These two were actually unaware of the sub-optimal care that they received, and were curious to know what should have happened.
As a physician (like many of my peers) who wrings my hands over my patients, and worries non-stop about making sure they're on the right diagnostic pathway, getting the most appropriate care that suits their needs and preferences, and protecting them from errors and missteps, I am discouraged by the rampant carelessness that I see around me. I know that the system can be exhausting, that the speed and patient volume pressures are themselves fostering medical errors, and that half of all primary care physicians want to quit medicine altogether.
But in the midst of this mess, we have to find a way to do better. Here's what we need to do right now for our own survival (this is NOT an exhaustive list – or this blog would be the length of an encyclopedia. Just a few thoughts to get you started!):
1. Patients – Don't be complacent about your care. Just because a doctor suggests that you have a certain diagnosis, or should get a certain test or take a certain medicine – that doesn't mean he or she is right. I'm sorry to have to say this, but second opinions have never been more important. There are good physicians out there, but you have to understand the pressure that they're under. Many are doing too much too quickly, and you could be the victim of an honest mistake… or even sloppy care. Doctors should earn your trust – don't feel badly about double-checking their work.
Also, once you are certain of your diagnosis and have confirmed the best course of action: do your part to participate in your care. It's estimated that as many as 50% of medications are not taken as directed. Don't hurt yourself by failing to comply with treatments that can help you.
Suggestion: There are second opinion services available online. I myself participate in a telemedicine program called eDocAmerica. Employers who purchase this benefit offer their employees access to a physician via email 24/7. The eDoc team helps patients get fuller, evidence-based answers to their questions. Sometimes patients want to know all the possible causes of their symptoms, understand what treatment options are available, or figure out if it would be appropriate for them to go to the ER or a specialist. I know that our insights are appreciated and can help patients take control of their health. You can sign up for eDocAmerica services here.
Suggestion: Think you might have the wrong diagnosis? Need help understanding complex decisions regarding your care? Do you have a rare or dangerous medical condition and don't have time for ineffective treatment pathways? Try the Best Doctors service. Teams of dedicated specialists will review your medical chart and test results to make sure that you are getting the best possible care for your condition. They can also help you weigh the risks and benefits of certain procedures to help you decide if they're the right one(s) for you.
2. Healthcare Professionals: It is estimated that there are over 6,000 new articles published in peer-reviewed journals every day. I know it's impossible to keep up with everything. So why do it on your own? At UpToDate.com there are hundreds of physicians combing the world literature every week to update clinical guidelines and help you recall the best evidence-based "next step" for your patients. I happen to love and use UpToDate.com, though there are other point-of-care databases that you can use. But let's use them (especially primary care providers)! Based on the stories I've heard from my friends, many of us are NOT giving our patients the best care based on the most recent guidelines. This is fixable.
Suggestion: Find a point-of-care database that you like and use it religiously. Don't assume you remember everything there is to know about condition X. There may be new recommendations about how to treat it. It's ok to rely on the excellent work of your peers to inform your daily practice. This can save lives.
Suggestion: Did you want to spend more time educating your patient but you didn't have time to do so? Why not suggest that they learn more about their condition, or spend time with someone who can help them weigh risks and benefits? UpToDate.com has patient-friendly educational materials, MayoClinic.com is an excellent evidence-based resource, and a company like eDocAmerica can provide personalized support to your patients. You may already know all this. But please take the time to offer your patients educational follow up. You can be the best teacher in the world, but patients are bound to forget some of what you say, or want to digest things more slowly and fully once they've left your office.
3. Caregivers – Keep good records, advocate for your loved one every step of the way, learn how to navigate the system. The Center For Advancing Health and the Louise H. Batz Patient Safety Foundation are great places to get nuts-and-bolts advice about how to organize and support the best care plan for your loved one. You may want to use Personal Health Record software to help you scan, organize, and file all the medical records that you'll need to keep your medical team aware of what the others are doing. Sadly, there is no fool-proof way to keep all the providers on the same page. It may actually be up to you to do it!
Suggestion: You can find others just like you on MedHelp.org, the largest online health community. Physicians and healthcare professionals answer questions (often without charge) in some communities. Helpful information and tips can be gleaned from other caregivers in the disease and condition chat rooms. (Of course, take the advice with a grain of salt and always confirm information from reliable sources).
Suggestion: Join the e-Patient community. The "e-Patient movement"  encompasses both those who seek online guidance for their own ailments and the friends and family members (e-Caregivers) who go online on their behalf. e-Patients report two effects of their online health research: "better health information and services, and different (but not always better) relationships with their doctors." They are equipped, enabled, empowered, engaged, equals, emancipated and experts. Read the e-Patient white paper and blog for more information.
I hope that these tips have been helpful – and that if you have to become a "consumer of healthcare" in the near future, you'll have better success than did my own friends. It's appropriate to have a healthy fear of the system, but armed with good information, evidence-based care plans, second-opinions, a determination to comply with sound advice, peer insights, and a savvy caregiver at your side… you have a fighting chance of surviving your next hospital or doctor visit!