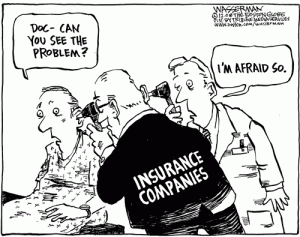 In a recent post entitled, "The Joys Of Health Insurance Bureaucracy" I described how it took me (a physician) over three months to get one common prescription filled through my new health insurance plan. Of note, I have still been unable to enroll in the prescription refill mail order service that saves my insurer money and (ostensibly) enhances my convenience. The prescription benefits manager (PBM) has lost three of my physician's prescriptions sent to them by fax, and as a next step have emailed me instructions to complete an online form so that they have permission to contact my physician directly (to confirm the year's refills). Unfortunately, page one of the form requires you to fill in your drug name and match it to their database's list before you can continue to page two. For reasons I can't understand, my common drug is not in their database. Therefore, I am unable to comply with my insurer's wish that I enroll in mail order prescription refills. This will further delay receipt of my medication – and probably increase my cost as I will be penalized for not opting into the "preferred" mail order refill process.
Now, all of this is infuriating enough on its own, but the larger concern that I have is this: How many patients are not "compliant" with their medication regimen because of problems/delays with their health insurer or PBM? Physicians are being held accountable for their patients' medication compliance rates, even receiving lower compensation for patients who don't reach certain goals. This is called "pay-for-performance" and it's meant to incentivize physicians to be more aggressive with patient follow up so that people stay healthier. But all the follow up in the world isn't going to get patient X to take their medicine each day if their health insurer or PBM makes it impossible for them to get it in the first place. And shouldn't there be consequences for such excessive red tape? Who is holding the insurers and PBMs accountable for their inefficiencies that prevent patients from getting their medicines in a timely manner?
Pay-for-performance assumes that physicians are the only healthcare influencers in the patient compliance cycle. I've learned that we only play a part in helping people stay on the best path for their health. Other key players can derail our best intentions, and it's high time that we look at the poor performance of health insurers and PBMs as they often block (with intentional bureaucracy) our patients from getting the medicine they need. While insurers save money by having patients struggle to get their prescriptions filled, doctors are payed less when patients don't take their medicines.
Not a great time to be a doctor or a patient… or both.