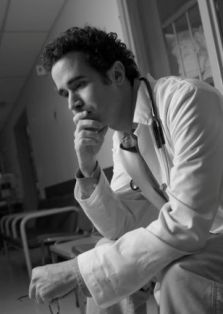 Here's my column in the March issue of Emergency Medicine News.
Second Opinion: Be Smarter Than Your Brain
"Everyone is a drug seeker. Why does everyone want to be on disability? I'm so tired of lies. Great, another lousy shift. I wonder who will die tonight? I'm so sick of suffering. I'm so weary of misery and loss. I hope this never happens to my family. I'll probably get sued. Being sued nearly drove me crazy. This job never gets easier, only harder. I have to find something else to do; I can't go on this way. I think I'm going crazy. I don't have any more compassion. People hate me now."
These are only a few of the wonderful thoughts that float through the minds of emergency physicians these days. Sure, not every physician has them. But I know our specialty, I know our colleagues, I hear from doctors around the country and I see that fear, frustration and anxiety are common themes.
Older physicians fantasize about career changes, and younger ones are often blind-sided by the hard realities of practice outside of their training programs (where their work-hours and staffing do not necessarily reflect the world beyond).
We are crushed by regulations and overwhelmed by holding patients, often put in situations where we are set squarely between the devil and the deep blue sea. "Spend more time with your patients; see them faster. Don't let the 'psychiatric hold' patient escape; why are you using so much staff on psychiatric patients? See chest pain immediately; why didn't you see the board member's ankle injury as fast as the chest pain?"
In all of this mess of emergency medicine, we often find ourselves frustrated and bitter. But is it only because of our situations? They are admittedly daunting. But is our unhappiness merely the result of the things imposed on us? Or could it be more complex than that? Lately, I have come to wonder if our thoughts are perhaps worse enemies than even lawsuits, regulations, or satisfaction scores. Read more »
*This blog post was originally published at edwinleap.com*