1 Comment »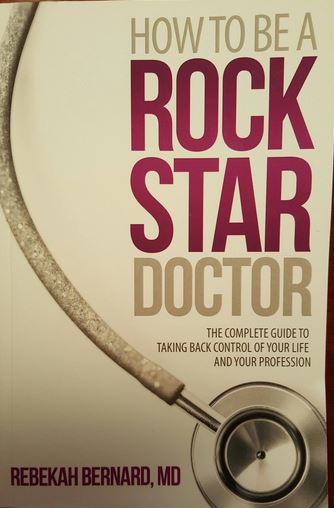 I'm often asked to do book reviews on my blog, and I rarely agree to them. This is because it takes me a long time to read a book – and then if I don't enjoy it, I figure the author would rather me remain silent than publish my true thoughts. Most of the reviews that I end up writing are unsolicited, but today is an unusual exception. A colleague asked me to read her book, "How To Be A Rock Star Doctor." I got half way through when she checked in to see how things were going. I had to tell her that I didn't agree with some of her advice to young doctors, and I worried that she would be discouraged by my honesty.
I was very pleasantly surprised to find that she welcomed the criticism and actually asked me to write my review – favorable or unfavorable as I saw fit. She is the very first author to take that position (others have thanked me for not writing a review) and I am proud of her for it.
In essence, How To Be A Rock Star Doctor, is an easy-to-read primer for young primary care physicians looking to setup their first outpatient practice. The troubling part of the book (for me) was Dr. Bernard's approach to the empathy fatigue that can set in for overworked physicians. In her view, we must "fake it" if we've lost it or don't have it.
The book contains specific advice for how to appear empathic. Smiling broadly (no matter how one is feeling internally), dressing in a white coat, and exuding confidence, are recommended because we should see our patient interactions as an acting role – we are on stage, and they are depending on us to look/act the part.
Although Dr. Bernard rightly points out that there is research to support smiling as a means to achieving a happier mood, I was left with a certain uneasiness about the idea of putting on an act for patients. Something about the potential for dishonesty didn't feel right to me. But then again, maybe the alternative – just being oneself – can create a poor therapeutic relationship if we're in a bad mood for some reason.
I have heard many times that doctors can be uncaring to patients. Heck, I've even blogged about terrible interactions that I've had with my peers when I was in the patient role. But what is the solution? Should doctors learn how to imitate the qualities of a compassionate physician to achieve career success, or should we go a little deeper and actually try to be caring and let the behavior flow from a place of sincerity?
On the one hand, any tips to make the doctor-patient relationship go more smoothly should be welcomed… but on the other, if patient care is just an act, then what kind of meaning do our relationships have? If we act empathic do we eventually become empathic? Maybe yes, maybe no.
One thing I'm sure of, Dr. Bernard has opened an interesting discussion about how to handle stress, burnout, and create an excellent therapeutic experience in the midst of a broken healthcare system. She is willing to take criticism, and has endeared herself to me through our email exchanges. While I may not agree with all of her strategies to optimize patient satisfaction, one thing seems clear: she is as advertised — a rock star doctor.
Check out her book and find your own path forward. 🙂