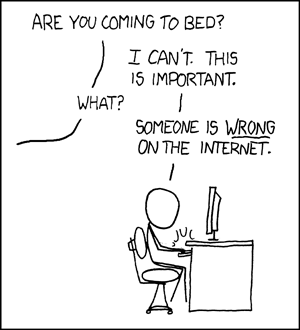 There's been quite a kerfuffle over the "Unprofessional" post Dr V wrote. A lot of people have been very shrill in denouncing physicians who write about their experiences using social media — blogs, twitter, facebook, etc — with particular emphasis on those who do not use their real names.
So, while I won't tell someone how they should blog/tweet, or try to impose my vision of professional standards on a community that clearly is still coming to consensus with public conversations by healthcare workers, I will offer you my personal guidelines and values that I use in determining what I am willing to put into the public domain. These are just my opinions; your mileage may vary.
As a general principle: patients give physicians and nurses access to intimate details of their lives and they have a reasonable and valid expectations that we will respect their privacy and dignity. When using social media, that does need to be maintained. How you do that requires careful attention and may be controversial regardless of your approach.
Don't blog or tweet anything that you wouldn't want you boss/hospital administration to read. Stress test yourself by informing your employer or CEO about your blog and invite them to read it. That will keep you honest! Read more »
*This blog post was originally published at Movin' Meat*