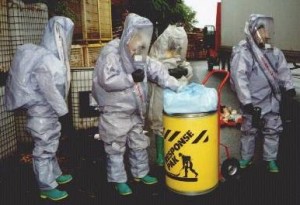 If you were invited to be part of a nuclear radiation clean up crew, I bet you'd want to wear protective gear. Not just the white hazmat bunny suit, but the gloves, goggles, mask and booties as well, right?  But when it comes to ultraviolet radiation exposure, we often put on "half a suit" as it were. We cover our skin with sunscreen (maybe) but we don't regularly protect our eyes. I'm not sure why we forget this step, but it's time to get serious about eye protection.
In a recent interview with dermatologist, Dr. Jeanine Downey, and optometrist, Dr. Stephen Cohen, we discussed the long term damage that UV radiation can cause to the skin and eyes. I hope you'll listen to our entire conversation here:
Sun damage of the skin has a familiar appearance – dark spots, wrinkles, thinning, and enlarged pores.  UV radiation causes visible damage to the eyes as well – yellowish corneas (the "whites" of the eyes), scars (called pterygia), and crow's feet. Over time, eyelid skin can become cancerous from sun exposure, while eyeballs develop cataracts and macular degeneration (which can lead to blindness). The risk of these diseases and conditions can be greatly reduced with sun protection measures. And it's not that hard to do…
Some quick tips to protect your eyes:
1. Wear a wide-brimmed hat to protect your face and eyes from the sun.
2. Wear wrap-around sunglasses that absorb at least 99 to100 percent of both UVA and UVB rays for maximum eye protection.
3. If you wear contact lenses, ask your eye doctor about whether or not your lenses have UV protection. ACUVUE® OASYS® Brand Contact Lenses offers the highest level of UV blocking available, blocking at least 90 percent of UV-A rays and 99 percent of UV-B rays. Although UV-blocking contact lenses provide important additional protection for wearers, they do not completely cover the eye and surrounding area, and should not be considered as a substitute for UV-blocking sunglasses. For maximum protection, UV-blocking contact lenses should be worn in conjunction with high-quality, wrap-around, UV-blocking sunglasses and a wide-brimmed hat.
4. Remember that UV rays are more intense when reflected from water and snowy surfaces. Just because it's the winter time doesn't mean you don't need to wear your sunglasses.
So next time you reach for your sunscreen, please remember to take your hat and sunglasses with you too! Fortunately, bunny suits and booties are still optional for UV radiation protection. 😉
Disclosure: Dr. Val Jones is a paid consultant for VISTAKON® Division of Johnson & Johnson Vision Care, Inc.