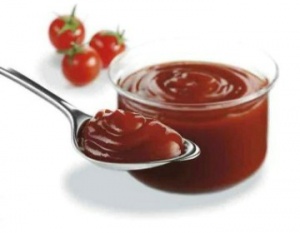 Today marks a new phase in my medical career – I've been sent a bottle of ketchup for my consideration. Until now I've received pharmaceutical pitches and drug samples for my patients… but I've now entered a new phase in my life. I am a target market for condiments.
And how did this purveyor of organic ketchup find me online? I was blogging about how difficult it is for patients with diabetes to avoid high fructose corn syrup these days (it seems to be a required ingredient from spaghetti sauce to peanut butter) and I explained that I was a carb conscious person myself, and had recently purchased some unsweetened ketchup as part of a sugar-avoidance strategy.
The next day a nice man asked if he could send me a sample of his own brand of ketchup, sweetened with agave nectar instead of corn syrup or cane sugar. I said it'd be fine for him to send it along, and a few days later there it was: Wholemato brand organic agave ketchup.
So I did a little taste test, comparing my Westbrae Natural Vegetarian Unsweetened Ketchup to the Wholemato brand. The Wholemato guy was right – it was head and shoulders above the other brand in terms of flavor and sweetness. Of course, it has 3g of sugar/serving, while the sugar-free version has 1g/serving. My organic Heinz ketchup has 4g/serving, and parenthetically – I went to the Heinz site and found that they have a new marketing campaign around customized ketchup labels. Kind of quirky. Who knew?
It seems that agave nectar contains ~90% fructose (if you can trust the sources online) which means that it's "sweeter" than glucose-based cane sugar (which is 50/50 glucose and fructose, and high fructose corn syrup is 55/45 fructose and glucose). So what does this mean? Correct me if I'm wrong here but I just interviewed Penny Kris-Etherton about corn syrup and she told me that it's the FRUCTOSE that is the real problem in terms of increasing blood lipid levels and requiring more insulin output.
So I feel really badly about the nice agave man who sent me the delicious ketchup – but the nutritionists are saying that agave is actually much WORSE for you than corn syrup if you're a diabetic.
I don't think that small amounts of any kind of sugar is worth fretting about (unless you have diabetes) – but trying to avoid cane sugar and high fructose corn syrup by switching to agave syrup is kind of like getting out of the frying pan and into the fire.
And with that blog post I think I've ended my career as a condiment tester unfortunately. Of course, I do like the taste of agave nectar. 😐