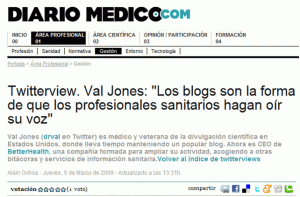 I am so pleased to announce a new content partnership between Better Health and Diario Médico (DM), Spain's leading news outlet for physicians. We will now be featuring regular content from the DM bloggers, translated for our readers from Spanish to English. The medical blogging community is a global family, and we proudly embrace our Spanish innovators overseas.
I first met the DM team two years ago on Twitter. Their lead social media guru, Alain Ochoa-Torres (@alainochoa), was the first to reach out to me – eager to learn about social media trends in the United States. We arranged to do a live "Twitterview" to talk about how U.S. physicians are engaging in social media, especially blogging. That Twitterview (screen shot shown to the left) was translated into Spanish and became the beginning of an exciting international collaboration.
In the future, Better Health hopes to find ways to make Spanish health content available to our readers… and with DM's help I'm sure that we will expand our understanding of global health, while making friends with our new Spanish blogging colleagues!
Please join me in welcoming our new blog contributors:

Sergio Minué, MD.
General Practitioner (GP). Management professor at Andalusian School of Public Health (Escuela Andaluza de Salud Pública, EASP) since July, 2000.
In the last eleven years Dr. Minué has been involved in several projects related to education, investigation and consulting both at national and international level. He has worked in projects for Dominican Republic, Uruguay, Chile, Argentina, Morocco and El Salvador, and collaborated with Pan American Health Organization (PAHO) in other actions.
At the present he is Director of the Expertise in Healthcare Management program at University of Granada and coordinates healthcare management module in European Master 'Erasmus Mundus' Europubhealth.
Served as Director of Medical Care Management Department at EASP from February 2009 to May 2010.
Worked as Teaching and Investigation Director at EASP from 2003 to 2007.
From 1993 to 2000 held different management positions at Insalud (now-defunct Spanish national healthcare authority): Medical Director of Primary Care Team at Barajas (1991-1993), Assistant Medical Director of Primary Care of Madrid's Area 4 (1993-1994), Medical Director of the same regional area (1994-1996) and finally Medical Director of Primary Care for Madrid's Area 2 (1996-2000).
Quality Pilot in European Master 'Erasmus Mundus' Europubhealth (2006-2010). During that time he coordinated Quality Committee of Virtual Campus of Public Health in Latin America organized by PAHO.
Member of Patient Safety groups at Cochrane and Spanish Primary Care Association (Semfyc). At Semfyc he is also member of the Knowledge Management group and coordinates Project ARA, focused on MD re-certification.
Member of Internet and Healthcare investigation group at EASP, he is currently working in several investigation projects on how doctors can use new technologies, social media and Web 2.0. He is also involved in projects related to best practices in teaching, safety, clinical decision-making and Primary Care. He is the leading author of an ongoing investigation on decision-making and mistakes in diagnosis. Reviewer for 'Gaceta Sanitaria' magazine. Participates in expert groups in Spain, Europe and the Americas.
He authored articles published in scientific journals both in Spain and abroad, and is a frequent lecturer and speaker in scientific congresses all over the world and is still actively writing and publishing in his field of expertise. He writes in two personal blogs ('El Gerente de Mediado' and 'La Cara Ve') and is a regular contributor to other healthcare blogs and Diario Médico.

Miguel Ángel Máñez, Economist.
Miguel Ángel Máñez is an economist and currently holds the position of Finance and Human Resources Assistant Manager of the Health Department of Alicante-Sant Joan d'Alacant in Alicante, Spain. He is also the Coordinator of the '2.0 Office' for Valencia's regional health authority, responsible for the implementation of Web 2.0 tools aimed at patients and healthcare professionals. He is the author of a well-known blog in Spain about healthcare management called 'Salud con Cosas'. He has taken an active part in courses and seminars about Internet and healthcare, marketing, and strategies of healthcare management. He is the author of several articles on healthcare and Web 2.0.

Vicente Baos, MD.
General Practitioner (GP) in Collado Villalba Pueblo (near Madrid), writes 'El supositorio' ('The Suppository') since 2007, one of Spain's most influential healthcare blogs.
Graduated in 1982 at Universidad Autónoma de Madrid, completed his training at Puerta de Hierro Hospital (Madrid) in 1987. Member of Editorial Board at 'Therapeutiction in Spanish Healthcare System' ('Información Terapéutica del Sistema Nacional de Salud'), a journal published by Spain's Ministry of Health since 1994.
Dr. Baos also coordinates Prescription Drug Use group at Spanish Primary Care Association (Semfyc) since its creation in 2003. He is a consultant at Spain's Drug Agency ('Agencia Española de Medicamentos y Productos Sanitarios'). Author of several books on prescription drug use (some of them for MD's and others targeted at general public) and a long list of scientific articles.
His main areas of interest are Primary Care and the analysis and evaluation of pharmacological therapies.

Frederic Llordachs, MD.
MD with MBA, specialized in Healthcare Management and Marketing. Direct experience with healthcare insurance, and healthcare management, and interested in venture capital. Also involved in early-stage start-ups, like Doctoralia (http://www.doctoralia.com), the global platform for healthcare search, and also other pre-seed projects like Lexpertia (http://www.lexpertia.com), the search engine for lawyers in Spain.

Julio Mayol, MD, PhD.
Julio M. Mayol MD, PhD, graduated with honor from Universidad Complutense de Madrid Medical School in 1988. He received his training in General Surgery at Hospital Clinico San Carlos and Beth Israel Hospital, taking further postgraduate training as research fellow in Surgery at Harvard Medical School. Currently, he he has an appointment as Professor of Surgery at Universidad Complutense de Madrid Medical School. He serves as Chief Innovation Officer and Chief of the Division of Colorectal Surgery at Hospital Clinico San Carlos. He is a member of the Spanish Royal Academy of Medicine and European Expert on Cell Therapy at European Medicines Agency.
About Diario Medico:
Since 1992, Diario Médico has been Spain's leading news outlet for physicians. Part of one of Spain's most important publishing groups (Unidad Editorial, publisher of El Mundo ), Diario Médico is both a website and a free newspaper distributed Monday to Friday in all hospitals and general practitioner offices across Spain.
The publication covers a wide range of subjects, from breaking scientific news to health policy, in-depth interviews, scientific meetings, clinical practice, legal issues, management, and health IT.
Diario Médico reaches 2.4 million paper readers and 450 thousand website visitors (more than 500 thousand pageviews/month).
The brand strives to be a cutting-edge reference tool for all healthcare professionals in Spain, and its website is constantly innovating. Diario Médico provides online courses as well as speciality-specific newsletters, video reports and Web 2.0 content such as Twitterrviews and a medical blogging platform (Médica Blogs).