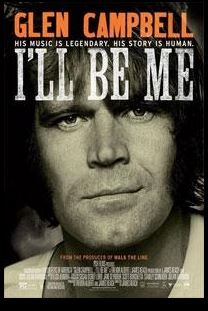 Country music legend Glen Campbell is dying of Alzheimer's disease. In an effort to raise awareness of the illness he and his family made the brave decision to bare their lives by creating a documentary of Glen's farewell tour. I highly recommend that you watch this film with your loved ones… and a box of Kleenex.
One of the most remarkable aspects of Glen's disease was the preservation of his musical abilities despite severe cognitive impairment. Although he rarely knew where he was or even how to tie his shoes, he was able to perform songs in front of live audiences. With redirection and prompting, he managed to participate in 151 concerts across the United States within the span of ~18 months. Accompanied by his gifted guitarist son and daughter, and his doting fourth wife Kim, Campbell was able to maintain his musical self for longer than his physicians ever anticipated.
The documentary held nothing back – from violent outbursts brought on by paranoid delusions of golf club theft, to inappropriate table manners, to hypersexuality triggered by too high a dose of Aricept – the trials and tribulations of being a caregiver for someone with dementia were painfully acute. In brief moments of insight, Glen himself would manage to stammer a "Thank you. For being so nice to me. I have been an ass."
One of the saddest moments of the movie was a brief clip of his daughter testifying before congress. She explains that memories are what lives are made of – and that although she is holding fast to the memories made with her dad, she knows that soon he will not even know who she is, and that their time together will be meaningless to him. Campbell listens silently next to her with a pained expression and misty eyes.
The movie's final song, artfully strung together from clips of Glen singing repeat phrases into a studio mic, is haunting:
"I'm Not Going To Miss You"
I'm still here, but yet I'm gone
I don't play guitar or sing my songs
They never defined who I am
The man that loves you 'til the end
You're the last person I will love
You're the last face I will recall
And best of all, I'm not gonna miss you.
Not gonna miss you.
I'm never gonna hold you like I did
Or say I love you to the kids
You're never gonna see it in my eyes
It's not gonna hurt me when you cry
I'm never gonna know what you go through
All the things I say or do
All the hurt and all the pain
One thing selfishly remains
I'm not gonna miss you
I'm not gonna miss you
Alzheimer's is a terrible, cruel disease. I share the frustration of the Mayo Clinic neurologists who treated Glen Campbell – unable to do much more than simply document his decline and mentally prepare his family for the next stages of the disease. To all those who are taking care of people with Alzheimer's I offer my sincere admiration and respect. To those who face a genetically higher-than-average chance of contracting the illness (such as myself), I tremble and hope for a cure.