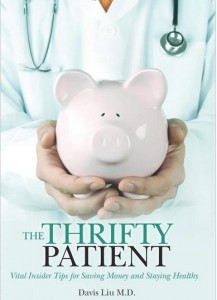 No matter the outcome of the presidential election this year, it's likely that Americans will be spending more of their money on healthcare going forward. Dr. Davis Liu, a family physician at the Permanente Medical Group in California (and a contributor to this blog), has written a primer on how to get the most bang for your healthcare buck. The Thrifty Patient: Vital Insider Tips For Saving Money And Staying Healthy is a helpful little book for those smart enough to read it.
The first step to becoming a "thrifty patient" is to reduce your need for professional healthcare services. This lesson is perhaps the most important of all: lifestyle choices are the largest controllable determinant of how much healthcare you will consume. Daily exercise, healthy eating, and preventive care services (such as vaccines and screening tests) are the most effective ways to avoid expensive healthcare.
Dr. Liu offers tips for selecting a doctor, questioning the necessity of tests and procedures, choosing less expensive treatments, getting a second opinion, and learning to get the most out of a short doctor visit. He explains why annual check ups may not be necessary, and lists all the preventive health screening tests you'll need (according to age) to maximize your chance of avoiding many major diseases or their expensive outcomes.
According to Liu, an excellent primary care physician (PCP) can be the best ally in avoiding unnecessary medical costs. Without a PCP's guidance, 60% of patients select the wrong specialist for their symptoms or concerns. This can trigger a costly cascade of extra testing and referrals. Liu recommends trustworthy websites that can aid in disease management and patient education – suggesting that "Dr. Google" may not be so bad after all, armed with a correct diagnosis from a healthcare professional and links to credible sources of information.
Being thrifty isn't necessarily "sexy" – but practical tips for avoiding unnecessary and expensive interactions with the healthcare system could add up to some pretty amazing savings (both financially and emotionally). Anyone who takes Dr. Liu's advice to heart is likely to live longer and better – I just hope that the people who could benefit most from these tips find their way to this book. Perhaps you know someone who needs an early Christmas gift? 😆
The Thrifty Patient can be purchased here on Amazon.com