In honor of Memorial Day, from the editorial cartoons of Joe Heller: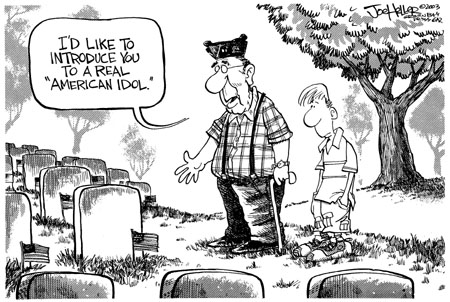 Virtobot is the name of a forensic robot used at the University of Bern's Institute of Forensic Medicine to perform virtual autopsies. In the futuristic Virtopsy laboratory, the robot scans the contours and texture of the human body by projecting light bars on it and acquiring high definition images.
These data are combined with the CT images acquired by the scanner in the same room. A three dimensional image of the body is then reconstructed that can be used during forensic examinations and be preserved as long as necessary. Additionally, the robot can also perform CT guided biopsies. The US forces have already installed a Virtopsy laboratory at Dover Air Force Base in Delaware to assess the cause of death of soldiers sent back from Iraq and Afghanistan.
Video of the Virtobot in action:
Press release: Digital future heralded for forensic medicine…
The Virtopsy Project on Youtube…
*This blog post was originally published at Medgadget*