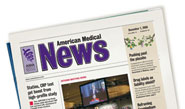 Via the American Medical Associations's American Medical News article "Welcome to our archives":
Now, our extensive online archive, paired with search and article collections by topic, puts thousands of stories at your fingertips.
Add to that a growing collection of Web-only content, such as our interactive tool for tracking health-plan earnings and a "Vault" page that will take you directly to articles and multimedia on topics of enduring interest (www.amednews.com/vault).
Most of that older content has been behind an access-control wall. By knocking down that barrier, we are making available 10 years of full content and several years more of selected earlier articles. All told, about 15,000 articles now can be searched and read.
We invite our readers to visit the archives and link to our articles from their own sites, blogs and posts.
Thanks, AMedNews! I suppose an I told you so would be rude, so I won't.
*This blog post was originally published at GruntDoc*