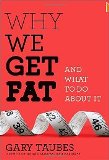 Journalist Gary Taubes created a stir in 2007 with his impressive but daunting 640-page tome Good Calories, Bad Calories. Now he has written a shorter, more accessible book Why We Get Fat: And What to Do About It to take his message to a wider audience. His basic thesis is that:
– The calories-in/calories-out model is wrong.
– Carbohydrates are the cause of obesity and are also important causes of heart disease, type 2 diabetes, cancer, Alzheimer's, and most of the so-called diseases of civilization.
– A low-fat diet is not healthy.
– A low-carb diet is essential both for weight loss and for health.
– Dieters can satisfy their hunger pangs and eat as much as they want and still lose weight as long as they restrict carbohydrates.
He supports his thesis with data from the scientific literature and with persuasive theoretical arguments about insulin, blood sugar levels, glycemic index, insulin resistance, fat storage, inflammation, the metabolic syndrome, and other details of metabolism. Many readers will come away convinced that all we need to do to eliminate obesity, heart disease and many other diseases is to get people to limit carbohydrates in their diet. I'm not convinced, because I can see some flaws in his reasoning. Read more »
*This blog post was originally published at Science-Based Medicine*