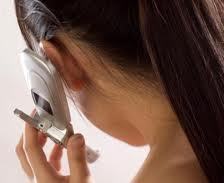 We all know that using a cell phone can stimulate the brain to work a bit harder. "Mr. Skerrett? This is Dr. LeWine's office. Do you have a minute to talk about your test results?" or "Dad, a bunch of kids are going to Casey's house after the dance. Can I go?" But a new study published in JAMA is making me wonder what the energy emitted by the phone itself — not just the information it delivers — is doing to my brain.
Here's the study in a nutshell. Dr. Nora Volkow and her colleagues recruited 47 volunteers to have their brain activity measured twice by a PET scanner. Both times the volunteer had a cell phone strapped to each ear. During one measurement, both phones were turned off. During the other, one phone was turned on but muted so the volunteer didn't know it was on; the other was left off. Each session lasted about an hour. The scans showed a small increase in the brain's use of glucose (blood sugar) when the phone was on, but only in parts of the brain close to the antenna.
It was an elegant study. The researchers took pains to anticipate sources of error. They used a control (both phones off) against which to compare the effect of a "live" cell phone. They used cell phones on each ear, one on and one off, to see if the effect was localized. They muted the phone that was on to eliminate the possibility that any brain activation was due to listening to the sound of a voice coming through the phone's speaker. So the result is probably a real one, not an artifact or measurement error.
What does this brain activation mean? No one really knows. As Dr. Volkow told NPR, "I cannot say if it is bad that they [cell phones] are increasing glucose metabolism, or if it could be good." Read more »
*This blog post was originally published at Harvard Health Blog*