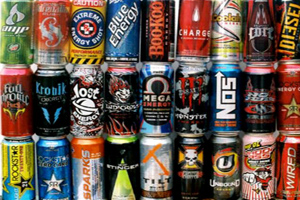 By Scott Gavura, BScPhm, MBA, RPh for Science-Based Medicine
My stimulant of choice is coffee. I started drinking it in first-year university, and never looked back. A tiny four-cup coffee maker became my reliable companion right through graduate school.
But since I stopped needing to drink a pot at a time, an entirely new category of products has appeared — the energy drink. Targeting students, athletes, and others seeking a mental or physical boost, energy drinks are now an enormous industry: From the first U.S. product sale in 1997, the market size was $4.8 billion by 2008, and continues to grow. (1)
My precious coffee effectively has a single therapeutic ingredient, caffeine. Its pharmacology is well documented, and the physiologic effects are understood. The safety data isn't too shabby either: it's probably not harmful and possibly is even beneficial. (I'm talking about oral consumption — no coffee enemas. Please.) In comparison, energy drinks are a bewildering category of products with an array of ingredients including caffeine, amino acids, vitamins, and other "natural" substances and assorted "nutraceuticals," usually in a sugar-laden vehicle (though sugar-free versions exist). Given many products contain chemicals with pharmacologic effects, understanding the risks, signs of adverse events, and potential implications on drug therapy, are important.
So are energy drinks just candied caffeine delivery systems? Or are these syrupy supplements skirting drug regulations?
The Message
The ads are seductive. Who doesn't want more energy? Who doesn't want their mind and body "vitalized?" And don't we have time-starved lifestyles? Initially envisioned for athletes, energy drinks are now marketed mainly towards teens and young adults, where uptake has been dramatic. Cross-promotion with extreme sporting events, and creating names like "Full Throttle," "Rockstar," and even  "Cocaine" burnish the "extreme" image. The market is now segmented further with products targeted at women, vegetarians, diabetics, celiacs, and more. However you identify yourself, there's probably an energy drink developed with you in mind. Read more »
*This blog post was originally published at Science-Based Medicine*