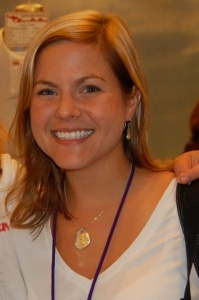 Kerri Morrone-Sparling
Kerri Morrone-Sparling is a whirlwind of energy. Not only is she the founder of one of the first diabetes blogs on the Internet: SixUntilMe, but she has devoted her career to helping others with diabetes. She works full time at dLife.com, a delightful and practical diabetes website and community. Kerri recently offered me some Halloween survival tips for people with diabetes, and today I had the chance to interview her about her life, her work, and the meaning of World Diabetes Day.
I've summarized some of our talking points below for those who don't wish to listen to the dulcet tones of two very friendly ladies dishing about diabetes.
Dr. Val: Tell me a little bit about your blog.
Kerri: My blog is called SixUntilMe and I started it in May of 2005. I was looking for other people like me who were living with diabetes and since I couldn't find a community like that I decided to start one myself. As it turns out I wasn't the only one – there were 2 or 3 other diabetes bloggers out there at the time, and now there are more than 250 of us.
Dr. Val: What does "six until me" mean?
Kerri: My diabetes started when I was six years old – I had a viral illness on my birthday which probably triggered an autoimmune response, causing the disease. My blog is about my diabetes – which started when I was six and is ongoing until now. So I called it "sixuntilme."
Dr. Val: How are you involved in diabetes advocacy?
Kerri: I work for a diabetes media company, (dLife in Westport, Connecticut) so my entire day is built around reaching out to people with diabetes, trying to make a difference in their life, and connecting them with up-to-date health information. Since I grew up without knowing any other kids who had diabetes, this job is like the holy land. I mean, this whole company was built to help people like me.
Dr. Val: What are some of the worst diabetes myths and what do you have to say about them?
Kerri: First of all, most people don't know the difference between type 1 and type 2 diabetes, and to make matters worse, they believe that people "give themselves diabetes" by eating too much sugar. So they make it seem like it's all our fault. Secondly, people often believe that insulin is the cure for diabetes. They don't realize that a glucose meter, an insulin pump, or a continuous glucose monitor are just technology, not a cure. Sometimes people think there's no need to donate to diabetes research anymore because these technologies are available. And finally, Halle Berry has promoted a myth that has done a lot of harm to the diabetes community. She claimed that she was able to wean herself off her insulin, and that other type 1 diabetics could do the same if they tried hard enough. Of course, that's blatantly false.
Dr. Val: What's your favorite new technology for diabetes management?
Kerri: My continuous glucose monitor (CGM). It doesn't replace finger stick checks, but it helps you to see the trends in your blood sugar. For example, when you're about to go to bed and you see that your glucose is 90, the CGM will give you some idea if that's 90 on its way up, or 90 falling towards hypoglycemia, or 90 holding steady – you can go to bed and not worry about a thing. It's like swinging on a trapeze only now I have a net.
Dr. Val: How does the machine work?
Kerri: It's a small device that has a needle in it, and you stick it to a fleshier part of your body. There's a small wire (introduced through the needle) that continuously samples the sugar level in your interstitial fluid. It's easy to remove and should be rotated every 3-7 days.
Dr. Val: Is it painful?
Kerri: No, I don't think so. I use the Dexcom Seven CGM. Occasionally I feel a little prick when I insert it but then I don't even notice that I'm wearing it. Here's a photo of me wearing it: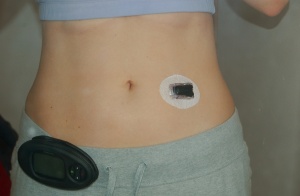 Dr. Val: Tell me about World Diabetes Day.
Kerri: It's a global awareness campaign that was started in 1991 by the International Diabetes Federation. The United Nations recognized the event for the first time in 2007. It's a day that directs the world's attention to diabetes and the epidemic its become and the effort it takes to manage it. On World Diabetes Day bloggers want to spread the word that diabetes is not an invisible disease. It affects lives every day, and it deserves the world's attention.
Dr. Val: What's the most important thing for Americans to know about diabetes?
Kerri: They need to know that diabetes is not cured by insulin, and it's not going away without their help. It's a very difficult disease to manage. No matter how well you control your sugar levels, the effects of the disease take their toll eventually, and the effects can be devastating. We must not ease up on our research efforts, especially when the numbers of people living with diabetes are growing exponentially.
References
www.diabeticfeed.com
http://the-bad-blog.blogspot.com/
http://www.diabetesdaily.com/johnson/
Kerri writes a column at dLife called Generation D (www.dlife.com/generation_d) and maintains a pretty extensive Flickr account at http://www.flickr.com/photos/sixuntilme/.  And lastly, if you'd like to follow Kerri on Twitter, you can find her at www.twitter.com/sixuntilme.