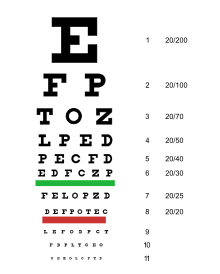 Most people assume that their eyes are healthy if their vision is stable, but this is not always the case. Eye doctors look for many different potential diseases and conditions during a comprehensive eye exam, and if you (or your children or loved ones) haven't had one recently then maybe it's time to make it a New Year's resolution for 2012?
One CDC survey suggests that as many as 34.6% of adults over the age of 40 (with moderate to severe visual impairment) believe that they don't need regular eye exams. This popular misconception may lead to missed diagnoses. Eye doctors look for signs of diabetes, high blood pressure, high cholesterol, glaucoma, multiple sclerosis, brain tumors, cataracts, macular degeneration, retinal tears, allergies and infections (among other things) each time they conduct a comprehensive eye exam. The exam offers a lot more than a simple vision check. And this is particularly important for children.
In a recent interview with the president of the American Optometric Association (AOA), Dr. Dori Carlson, I learned the surprising statistic that about 1 in 4 school age children have an undetected or undiagnosed vision problem. School vision screenings, while helpful, still miss more than 75% of these problems. And for those kids who are discovered to have a vision problem during a school screening, upwards of 40% receive no follow up after the diagnosis.
The eyes are more than a "window to the soul" but a window to general physical health. And the good news is that exams are relatively inexpensive and painless – so why not resolve to make them part of your yearly health maintenance routine, starting in 2012? Let's make 2012 a year for healthy vision!
For more great information about eye health, please check out my Healthy VisionTM podcast interviews with national eye experts:

Tips For Driving In The Dark
Tips For Enhancing Vision & Sports Performance
Tips For Childhood Eye Health
Tips For Safe Wear & Care Of Contact Lenses
Tips For Protecting Your Eyes From The Sun

---

Disclosure: Dr. Val Jones is a paid consultant for VISTAKON®, Division of Johnson & Johnson Vision Care, Inc.

Don't have an eye doctor? Here's a helpful database that you can use to locate one near you.
Can't afford an eye exam for your child? The InfantSee program (www.InfantSee.org) can match you up with eye care professionals who will perform the exam at no cost to you.