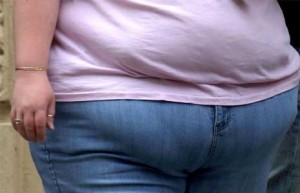 I recently found my way to an interesting NPR podcast via a link from Dr. Ranit Mishori (@ranitmd) on Twitter. The host of the show interviewed a physician (Dr. Mishori), an obesity researcher (Sara Bleich), and a family nurse practitioner (Eileen O'Grady) about how healthcare providers are trying (or not trying) to help patients manage their weight. Several patients and practitioners called in to participate.
First of all, I found it intriguing that research has shown that the BMI of the treating physician has a significant impact on whether he or she is willing to counsel a patient about weight loss. Normal weight physicians (those with a BMI under 25) were more likely to bring up the subject (and follow through with weight loss and exercise planning with their patients) than were physicians who were overweight or obese. Sara Bleich believes that this is because overweight and obese physicians either don't recognize the problem in others who have similar body types, or that their personal shame about their weight makes them feel that they don't have the right to give advice since they don't practice what they preach. While 60% of Americans are either overweight or obese, 50% of physicians are also in those categories.
Although it's not entirely surprising that overweight/obese physicians feel as they do, it made me wonder what other personal conditions could be influencing evidence-based patient care. Is a physician with high blood pressure less apt to encourage salt restriction or medication adherence? What about depression, smoking cessation, or erectile dysfunction? Are there certain personal diseases or conditions that impair proper care and treatment in others?
Several callers recounted negative experiences with physicians where they were "read the Riot Act" about their weight. One overweight woman said she handled this by simply avoiding going to the doctor at all, and another obese man said his doctor made him cry. However, the man went on to lose 175 pounds through diet and exercise modifications and said that the "tough love" was just what he needed to galvanize him into action.
Dr. Mishori felt that the "Riot Act" approach was rarely helpful and usually alienated patients. She advocated a more nuanced and sensitive approach that takes into account a patient's social and financial situation. She explained that there's no use advocating personal training sessions to a person on food stamps. Physicians need to be more sensitive to patients' living conditions and physical abilities.
In the end, I felt that nurse practitioner Eileen O'Grady contributed some helpful observations – she argued that the rate-limiting factor in reversing obesity is not information, but motivation. Most patients know what they "should do" but just don't have the motivation to start, and keep at it till they achieve a healthy weight. Ms. O'Grady devoted her practice to weight loss coaching by phone, and she believes that telephones have one big advantage over in-person visits: patients are more likely to be honest when there is no direct eye contact with their provider. Her secret to success, beyond a non-judgmental therapeutic environment, is setting small, attainable goals. She says that if she doesn't believe the patient has at least a 70% chance of success, they should not set that particular goal.
Starting goals may be as simple as "finding a workout outfit that fits." As the patient grows in confidence with their successes, larger, broader goals may be set. Weight loss coaching and intensive group therapy may be the most motivating strategy that we have to help Americans shed unwanted pounds. Apparently, the USPS Task Force agrees, as they recommend "intensive, multicomponent behavioral interventions"  for those who screen positive for obesity in their doctors' offices.
I think it's unfortunate that most doctors feel that they "simply don't have time to counsel patients about obesity." Diet and exercise are the two most powerful medical tools we have to combat many chronic diseases. What else is so important that it's taking away our time focusing on the "elephant in the room?"  Pills are not the way forward in obesity treatment – and we should have the courage to admit it and do better with confronting this problem head-on in our offices, and also in our own lives.