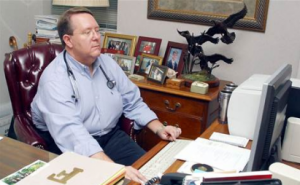 A recent, 358-person survey conducted by researchers at Yale University (and published in the International Journal of Obesity) suggested that patients may be less likely to follow the medical advice of overweight and obese physicians. Survey respondents were 57% female, 70% Caucasian, 51% had BMIs in the normal or underweight category (31% overweight and 17% obese), and were an average age of 37 years old.
Respondents rated overweight and obese physicians as less credible than normal weight doctors, and stated that they would be less likely to follow advice (including guidance about diet, exercise, smoking cessation, preventive health screenings, and medication compliance) from such physicians. Although credibility and trust scores differed between the hypothetical overweight and obese providers and normal weight colleagues, the respondents predicted less of a difference between them in terms of empathy and bedside manner. Respondents said they'd be more likely to switch physicians based on their weight alone. There was no less bias against overweight and obese physicians found in respondents who were themselves overweight or obese.
The study authors note that this survey is the first of its kind – assessing potential weight bias against physicians by patients of different weights. Previous studies (by Puhl, Heuer, and others) have documented weight bias against patients by physicians.
While the study has some significant limitations (such as the respondents being disproportionately Caucasian, thin, and female), I think it raises some interesting questions about weight bias and physicians' ability to influence patients to adopt healthier lifestyles.
Considering the expansion of pay-for-performance measures (where physicians receive higher compensation from Medicare/Medicaid when their patients achieve certain health goals -such as improved blood sugar levels), being overweight or obese could reduce practice profit margins. If patients are less likely to follow advice from overweight or obese doctors, then it stands to reason that patients' health outcomes could suffer along with the doctors' income.
I'm certainly not suggesting that CMS monitor physician waist circumferences in an attempt to improve patient compliance with healthy lifestyle choices (Oh no, did I just give the bureaucrats a new regulatory idea?), but rather that physicians redouble their efforts to practice what they preach as part of a commitment to being good clinicians.
Some will say that the problem here is not expanding provider waistlines, but bias against the overweight and obese. While I agree that weight has little to do with intellectual competence, it does have to do with disease risk. Normalizing and destigmatizing unhealthiness is not the way to solve the weight bias problem. We know instinctively that carrying around a lot of extra pounds is damaging to our health. It's important to show grace and kindness to one another as we join together on the same health journey – a struggle to make good lifestyle choices in a challenging environment that tempts us to eat poorly and cease exercising.
To doctors I say, let's fight the good fight and model healthy behaviors to our patients. To patients I say, show grace to your doctors who carry extra pounds – don't assume that they are less competent or knowledgeable because of a weight problem. And to thin, female, 30-something, Caucasian survey respondents I say – Wait till you hit menopause before you judge people who are overweight! 😉