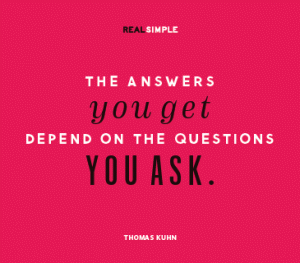 I realize that my blog has been littered with depressing musings on healthcare lately, and so I thought I'd offer up one very positive and "actionable" suggestion for all you patients out there. In the midst of a broken system where your doctor is being pressured to spend more time with a computer than listening and examining you, where health insurance rates and co-pays are sky-rocketing, and where 1 in 5 patients have the wrong diagnosis… There is one "magic" question that you should be asking your physician(s):
"What else could this be?"
This very simple question about your condition/complaint can be extremely enlightening. Physicians are trained to develop extensive "differential diagnoses" (a list of all possible explanations for a set of signs and symptoms) but rarely have time to think past possibilities 1 through 3. That's one of the reasons why so many patients have the wrong diagnosis – which is both costly in terms of medical bills, time, and pain and suffering.
There is a risk in asking this question – you don't want to be over-tested for conditions that you are unlikely to have, of course. But I maintain that the cost/risk of living with the wrong diagnosis far exceeds the risk of additional testing to confirm the correct diagnosis. So my advice to patients is to keep this very important question in mind when you see your doctor for a new concern.
In addition to asking this question of your doctor, you can also ask it during a second opinion meeting with another physician. The good news is that these days you don't even need to get a second opinion in person. I myself have been working with an online second-opinion service called eDocAmerica for several years. Those who sign up for the service can pick the brains of board-certified U.S. physicians on any subject, 24-7 via email (and in some states via phone). The cost is extraordinarily reasonable when provided by employers, and winds up being about one or two dollars per member per month.
If you have a complicated disease or condition (such as cancer) where experts may not all agree on the best treatment plan, a company called Best Doctors offers detailed chart reviews and second opinions from top specialists at academic centers. Again, this service is quite affordable and reasonable if the cost is spread among a group. Employers are able to pay a small fee per employee per month to enroll the entire company in the service.
So why don't all employers offer these benefits? I suspect that part of the reason is lack of awareness that second opinion services exist, and the other part is tepid demand on the part of employees. So if you'd like to make sure that you're not one of the five people who have the wrong diagnosis, why not raise the question with your HR department? Enrolling as an individual is also an option, and still as inexpensive as about thirty dollars a month.
My bottom line: make sure you ask your doctor the magic question at least once for every new concern that you have. And if you're too shy to do it, or your doctor's answer seems too short, then get a second opinion online or in person.
This one little question could save your life.