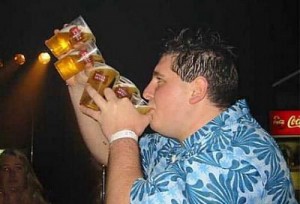 Are you one of those people who's been singled out for constant attack by mosquitoes? Ever felt like the designated bug decoy at a party? It does seem that those pesky biting insects have a preference for certain individuals, so the real question is: why you?
I wish there were a simple answer, but scientists have only isolated a few potential causes. It is likely that the full story remains to be elucidated – and may be related to small genetic variations in human odor. However, we do know that mosquitoes are attracted to carbon dioxide (that we expel as we breathe), and warmer skin temperatures. So I guess if you're a heavy-breathing, hot-blooded person then you might need an extra layer of DEET? Or maybe hold your breath and wear a scuba suit when you're in the presence of mosquitoes? Just kidding.
Interestingly, one small study notes that mosquitoes are more likely to land on people who are drinking beer. Since alcohol tends to cause vasodilation of blood vessels, the enhanced skin warmth could be a mosquito attractant. Others have postulated that tipsy people are slower at swatting off mosquitoes and are therefore more likely to be bitten.
My personal suspicion is that some of us react to mosquito proteins (injected when they bite us) more robustly than others. That means that while a mosquito's bite may leave only a tiny, fleeting mark on one person, another might develop a large red hive that itches intensely. So if your immune system is hyper-reactive to mosquito proteins, you're likely to suffer more from each bite that you receive. That alone could make you feel as if you're being singled out by the nasty insects, when the reality is that others are being bitten just as frequently.
I guess the take home message here is that insect-repellent is still the best defense against mosquito bites, although some might argue that keeping a heavy-breathing, sweaty, beer-drinking guy nearby might provide an alternative decoy?
Enjoy your summer – and don't scratch yourself to death!