When Americans think about wartime medicine, "MASH" reruns and the comic antics of Hot Lips Houlihan and Hawkeye Pierce are likely to come to mind. A decidedly more authentic view can be found in "Paradise General" and "The Nightingale of Mosul," books by a real-life Army surgeon, Dr. Dave Hnida, and an Army nurse, Col. Susan Luz. Both authors served in Iraq during some of the bloodiest days of the war in 2006 and 2007.
At an age when people often retire from the military, 48-year-old Dr. Hnida, a family physician in Littleton, Colo., volunteered for service, answering the Army's call for doctors. Col. Luz was a 56-year-old Army reservist—her previous tours had included delivering babies for military families stationed in Germany and bringing humanitarian aid to South America—when she was deployed to active duty in the bloody urban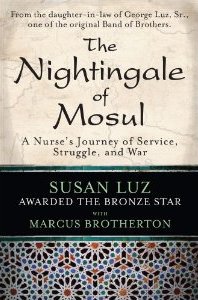 battleground of Mosul.
— via Book Review: Paradise General; The Nightingale of Mosul – WSJ.com.
So, my summer book list is set.
*This blog post was originally published at GruntDoc*