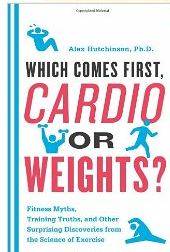 I just finished reading a great little book called, "Which Comes First, Cardio Or Weights? Fitness Myths, Training Truths, And Other Surprising Discoveries From The Science Of Exercise" by Alex Hutchinson, Ph.D. I'm very grateful to Alex for patiently sifting through over 400 research studies in a quest to answer (with evidence, not subjective opinion) some of our most nagging exercise questions.
Alex is the perfect guy to do this exercise myth-busting as he is a competitive runner, professional journalist, and has a Ph.D. in physics. His writing is crisp, uncluttered, and bears the understated humor of a Canadian. To be honest, I enjoyed his book so much that I was contemplating blogging about most of his conclusions. However, I don't want to teeter on the edge of copyright infringement, so I'll just provide you with some highlights from my favorite sections of the book:
1. Do compression garments help you exercise? I've wondered this many times as I jiggled my way down the road on a long run. I've always liked the theory behind tight outer-garments, that they reduce unnecessary movement during running, thus making one's movement more efficient and reducing the bounce and drag on muscles and skin. They may also help with blood return to the heart and reduction in peripheral edema, speeding recovery from exercise. Believing the plausibility of the argument, I have indeed sprung for some rather expensive running tights.
So what does the scientific literature have to say about compression garments' role in exercise? Apparently there is nothing conclusive yet. Small studies have shown no clear improvement in exercise economy, athletic power or endurance, or recovery from exercise. The only measurable benefits appear to have occurred in those who believed that the compression garments would help their performance. A nice reminder of the importance of the "mind-body" connection in athletic pursuits. Bottom line: if you like how you feel in compression garments, by all means wear them. But don't expect any dramatic improvements in anything more than your jiggle factor.
2. Will sitting too long at work counteract all my fitness gains? The short answer to this question is: possibly. I was surprised to note that at least one large study found that sitting for more than six hours per day increased one's risk of death by 18-37% regardless of how much exercise one performed in the other eighteen hours of the day. Long periods of sitting appear to be quite bad for your health, so getting up and moving around every hour or more is important if you have a sedentary job or lifestyle.
3. Does listening to music or watching TV help or hurt my workout? Listening to faster-tempo music can result in increased exercise effort (in many cases completely unconsciously), while TV-watching usually results in a reduced exercise effort. This is because watching videos requires visual attention and subtle changes in balance and movement occur to accomplish it.
4. Will stretching help me avoid injuries? As a person with limited flexibility, I found this section of the book to be quite comforting. As I have blogged previously, stretching has not been shown to reduce the risk of injury or post-exercise soreness. In fact, it can decrease power and speed for certain athletes, though it is important for those who intend to perform great feats of flexibility (such as gymnastics).
5. Should I take pain killers for post-workout soreness? Interestingly, non-steroidal anti-inflammatory drugs (NSAIDs) are not particularly effective in reducing post-exercise pain and can even interfere with muscle repair. NSAIDs block prostaglandins, which are important in collagen synthesis. While NSAIDs are useful in reducing inflammation and swelling in acute injuries (such as an ankle sprain), general muscle soreness isn't a good reason to pop some ibuprofen.
6. Will drinking coffee help or hinder my performance? I'm one of the few people I know who doesn't drink coffee, so I was surprised to discover that I may have been missing out on an important exercise enhancer. According to decades of research, caffeine is likely to improve your exercise performance. Studies have shown that pure caffeine (not necessarily in its coffee form) enhances sprint performance as well as endurance activities up to two hours. In 2004 the World Anti-Doping Agency removed caffeine from its list of restricted substances, so expect to see some caffeinated athletes in this summer's Olympics.
7. What's the best way to breathe during exercise? If you've ever marveled at your own panting, you've also probably wondered if there is a more efficient way to breathe – or at least a less embarrassing way. The answer is no. Studies have shown that people who consciously work to make their breathing less labored expend more energy and get less oxygen in the process. So, keep on breathing the way your body wants to… you're naturally more efficient at it than you think.
I hope that these little tidbits have whet your appetite for more of Alex's excellent insights. I have fully equipped myself with fast-paced music and a little caffeine, as I move my inflexible, jiggly, panting self down the road on another long run.