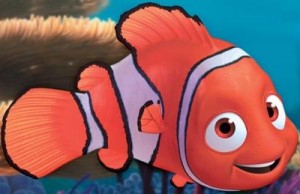 Finding Nemo is one of my favorite Disney-Pixar cartoons. Not only does it have a cute story line, but it's full of medical themes – consider the movie's namesake with a congenitally deformed fin (Nemo), the shark with addiction problems (Bruce), and the blue tang fish with memory impairment (Dory). Even Nemo's captor turns out to be a dentist! But when I think about the scene where the fish attempt escape from the dentist's tank by plugging up the filter system to get him to remove them for cleaning, I always think about kidneys. Yep, you heard me right. Kidneys.
Kidneys are fairly under appreciated organs. They filter waste out of 200 liters of blood each day, much the way a fish tank's filter system purifies its water. Most of us probably don't even notice a fish tank filter when we gaze at the plastic plants, pebbles, and colorful animals inside the tank – just as we don't give our kidneys a second thought until they cause us problems.
But the reality is that an astonishing number of people will develop chronic kidney disease (CKD) in their lifetime, largely due to complications from diabetes. An estimated 26 million Americans have CKD, and the majority don't even know it. Our fish tank filters are failing slowly – and the build up of "algae and grime" just doesn't cause symptoms until very late in the failure process.
Since March is Kidney Awareness Month, I thought it would be a good time to reflect upon the hard work that our little guys are doing each day. Beyond filtering drugs and chemicals from the blood, kidneys balance body fluids and electrolytes, create Vitamin D, regulate our blood pressure, and produce hormones that stimulate our bodies to produce red blood cells. In fact, anemia can be one of the first signs of kidney failure, and may be experienced as generalized fatigue. People with CKD often suffer from anemia, which can be treated with dietary changes, oral iron, IV iron, or blood transfusions depending on disease severity.
So whether or not you've been feeling fatigued, why not ask your primary care physician to check your kidneys next time you're there for a check up? A simple blood test can identify many kidney diseases early on – so that you can take steps to keep your filter system healthy for life. Just ask Nemo – being in a dirty fish tank is no way to live.
For more information about CKD and anemia, please check out this infographic: