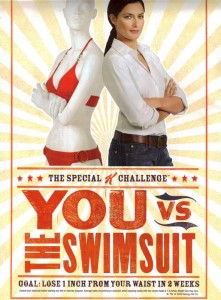 Kellogg's Special K cereal brand has long been known for its iconic slim woman in a red bathing suit. In a bold, Dove-soap-like new ad campaign, they have decided to feature "real women" – which apparently means women with larger BMIs – in red bathing suits. A Special K spokeswoman explains,
"We want to encourage a responsible attitude when it comes to body image and to show that losing weight isn't just about the way you look or a certain size you need to conform to, but more importantly about the way it makes you feel.
The fact that we are using real women for the first time of a variety of shapes and sizes is the perfect way to encourage women to think differently about losing weight and not just focus on the numbers on the bathroom scales."
While I certainly appreciate the intent, I think there may be an even better way of achieving the objective of avoiding an over-emphasis on the bathroom scale. Instead of normalizing and accepting overweight bodies, why not show what women of the same percent body fat look like? That might be a healthier way to help us wrap our minds around the fact that (for example) 21% body fat on one woman might look very different than 21% body fat on another… Of course body fat alone is not a perfect measure of health – cardiovascular fitness doesn't always correlate with it. But it's a potential new way of normalizing healthy bodies rather than accepting a new overweight standard.
In fact, with the upcoming summer Olympic games, it might be fun to show the many faces of fitness. Women athletes at the peak of their performance look very different from one another. How about putting them all in red bathing suits?
Anyway, I thank Special K for opening the discussion – and I encourage us all to strive for optimal health. But as a physician, I believe that we shouldn't accept overweight bodies as a new health standard. Good health does come in many shapes and sizes, but not in high levels of body fat.