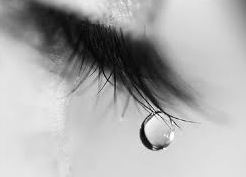 Humans are the only living things that cry when they are overcome with emotion. Why do we do this?
A study by Noam Sobel and colleagues at the Weizmann Institute provide part of the answer, at least as it relates to women. The scientists showed that when men get a whiff of women's tears, they experience a temporary, generalized loss of libido and a dip in testosterone. Really. (And you thought that red, runny nose was the turn off, didn't you?)
Scientists have known for decades that the chemical composition of "emotional tears" differs from tears shed due to simple irritation. But now, it appears that some of the chemicals contained in the former are actually pheromones; biological substances that create behavioral changes in others who are exposed to them. Such chemicals were known to exist in urine in anogenital gland secretions (dont ask), but not in tears.
Sobel's team began its study by posting ads on Israeli college campus bulletin boards in which they sought volunteers who cried easily. Seventy-one people responded. All but one were women. From that group, the scientists identified six who were profuse criers and who could return to their labs every other day.
The scientists then asked each one to select a movie that was guaranteed to make them break down, to watch it in private, and to collect their tears in a vial. For the controls, Sobel's group trickled a saline solution down the same women's cheeks and collected that. Sobel's group subsequently asked male volunteers to sniff the contents of the two vials and ran a battery of psychological and physiological tests to measure their responses. Read more »
*This blog post was originally published at Pizaazz*