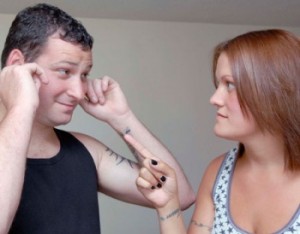 A friend of mine is in great physical shape but her husband (we'll call him "Mr. B")  has gained 40 pounds since they were married five years ago. He also has familial hypercholesterolemia, and several of his relatives have had heart attacks at young ages. Mrs. B is distraught – she is worried about her husband's health, and has tried to gently nudge him towards healthier eating habits and regular exercise (as well as taking a statin for his cholesterol). Unfortunately, the nudges were received as nagging, and a wedge has formed between them in their relationship.
Last week my friend planned a trip to a primary care physician in the hopes that he would educate Mr. B about the dangers of being overweight and not treating his high cholesterol. "Surely Mr. B will listen to an expert" she thought, "then perhaps he'll realize that he has to change his behavior."
Unfortunately, the primary care physician didn't offer any health counseling to Mr. B. Not only did he not mention that Mr. B should lose weight, but he didn't provide any warnings about the dangers of untreated, very high cholesterol levels. He merely reported that Mr. B's total cholesterol was 300, and that a statin was indicated.
Mrs. B was crestfallen. She was depending on the physician's authoritative input to help her come up with a strategy to steer her husband towards better health. Now Mr. B was left with the impression that things were more-or-less ok, and that his wife's concerns were exaggerated.   Read more »