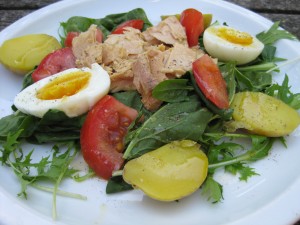 Eye diseases and vision loss are becoming more common in the United States as diabetes rates rise and the population ages. Many eye conditions worsen very slowly and have no noticeable symptoms in their early stages. For this reason, getting an annual eye exam is extremely important. But is there anything we can do to prevent eye disease from a nutritional perspective? Experts believe that there is such a thing as an "eye-healthy diet." I interviewed Dr. Jeffrey Anshel, President of the Ocular Nutrition Society, and Dr. Elizabeth Johnson, a leading nutrition researcher, to get their views on the subject. Please listen to the full HealthyVision podcast here.
Some of the my favorite learning points from the show:
1. Which foods are healthy for the eyes? The human retina contains about 1000 times more concentrated carotenoids (found primarily in plant pigments) than any other part of the body. Our eyes use these pigments to protect themselves from the photo-damage of sunlight. Carotenoids (including beta-carotene, lycopene, lutein, and zeoxanthin) are found in highest concentrations in dark green, leafy and brightly colored vegetables. Egg yolks are also a good source of carotenoids. Interestingly, our retinas have a predilection for omega-3 fatty acids (found in fatty fish) to protect the eyes from UV radiation. My bottom line – the most eye-healthy meal on earth is probably a salmon salad Niçoise (see photo image above)!
2. Are carrots good for our eyes? While carrots can be part of healthy diet, choosing carrots as our primary source of vegetable intake may not be a good idea. Carrots contain beta-carotene, which competes with other carotenoids for transport molecules. Beta-carotene is a pretty good competitor and can "bump off" lutein and zeaxanthin from getting transported to the retina. Adults don't process beta-carotene as well as kids do, so too many carrots may not be a great thing after all (especially as we get older)!
3. Should I take nutritional supplements for the eye? It's always best to get your carotenoids from real food. However, some people (who take blood thinners for example) cannot eat dark green leafy vegetables because they also contain Vitamin K which can interfere with the medicines. For those who cannot get sufficient carotenoids from food, supplements may be beneficial.
4. What is the connection between obesity and chronic eye disease? While obesity is a risk factor for diabetes, and diabetes can cause chronic eye disease, there may be another problem at play. Carotenoids are fat soluble, and so they are preferentially stored in fat cells rather than remaining suspended in our blood stream. When we have larger fat stores, that fat may "mop up" the healthy vegetable carotenoids that we eat, without allowing them to be transported to the eyes to support retinal structures. Some researchers suggest that obese individuals may need to increase their carotenoid intake with supplements in order to prevent eye pigment deficiencies and potential macular degeneration. Losing body fat is also an important strategy of course.
Other questions answered in the podcast:
* How does cooking impact the nutritional value of fruits and veggies?
* Is there such a thing as over-supplementation (especially with Zinc)?
* How many veggies do I need to meet my daily carotenoid requirements?
* How do I know which vitamin supplements to trust?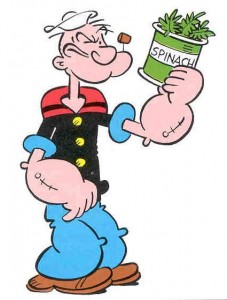 I hope you enjoy the podcast – and redouble your efforts to eat a diet rich in fruits, veggies, fish and eggs and maintain a healthy weight. Remember that even though your mom may have told you that Bugs Bunny's diet was best for your eye health, Popeye's veggie of choice is even better for you!
For more information about ocular nutrition, please visit the Ocular Nutrition Society.
For more information about eye health, please go to AllAboutVision.com.
---
Disclosure: Dr. Val Jones is a paid consultant for VISTAKON®, Division of Johnson & Johnson Vision Care, Inc.