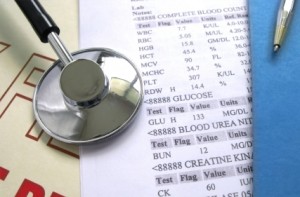 Six weeks ago I had a skin lesion removed by a plastic surgeon. About 7 days after the biopsy, I received a letter from the pathology lab where the sample had been analyzed under a microscope. I eagerly opened the letter, assuming that it contained test results, but was disappointed to find a bill instead. As a physician, it felt strange to be in a position of having to wait for a colleague to give me results that I was trained to understand for myself. However, I knew that in this case I was wearing my "patient hat" and that I'd need to trust that I'd receive a call if there was an abnormality. I haven't received a call yet, and I assume that no news is good news. But what if no news is an oversight? Maybe there was a communication breakdown between the path lab and the surgeon (or his office staff) and someone forgot to tell me about a melanoma? Unlikely but possible, right?
Patients experience similar anxiety in regards to lab tests on a constant basis. In a perfect world, they'd receive results at the same time as their doctors, along with a full explanation of what the tests mean. But most of the time there's a long lag – an awkward period where patients have to wait for a call or make a nuisance of themselves to office staff. Shouldn't there be a better way?
The New York Times delves into the issue of "the anxiety of waiting for test results," with some helpful tips for patients in limbo:
As patients wait for test results, anxiety rises as time slips into slow motion. But experts say patients can regain a sense of control.
Start before the test itself.
Because fear can cloud memory during talks with doctors, take notes. If you can, bring a friend to catch details you may miss.
Some pretest questions:
What precisely can this test reveal? What are its limitations?
How long should results take, and why? Will the doctor call with results, or should I contact the office?
If it's my responsibility to call, what is the best time, and whom should I ask for?
What is the doctor's advice about getting results online?
Do I think that patients should have access to their results without their physician's review? While my initial instinct is to say "yes," I wonder if more anxiety may be caused by results provided without an interpreter. There are so many test results that may appear frightening at first (such as a mammogram with a "finding" – the term, "finding," may mean that the entire breast was not visualized in the image, or that there was a shadow caused by a fatty layer, or -less commonly – it can also indicate that a suspicious lesion was observed). I'm not arguing that patients can't understand test results on their own, but medicine has its own brand of jargon and nuances that require experience to interpret.
Consider the slight deviations from the mean on a series of blood tests. They can be perfectly normal within the patient's personal context, but may simply be listed by the lab as high or low. This can cause unnecessary anxiety for the patient. And what about PAP smear results that are listed as "ASCUS" – atypical squamous cells of undetermined significance? These can occur if the patient merely had recent sexual intercourse, and are not necessarily indicative of cancer at all.
And what about the "ambulance chasing lawyers" out there? Will there be additional frivolous law suits created by lab test results reported direct-to-consumer as abnormal in some way (when they really aren't, given the full clinical picture) and patients assuming that their physician was negligent by not reporting the abnormality to them sooner? It could happen.
In the end I think that physicians all need to make a concerted effort to forward (with an explanation when necessary) lab test results to patients as quickly as possible. But since doctors are the ones ordering the tests in the first place, they do have a right to see them (before the patient when appropriate) – and an obligation to pass on the information in a timely and fully explained manner. That's the value of having a physician order a test – their expertise in interpreting the results are part of the package (and cost). When patients order their own tests (and in some cases they can) then they should be first to receive the results.
As for me, I'm going to have to resort to "office staff nuisance" to get my results confirmed… just like any other regular patient. Oh well. 😉