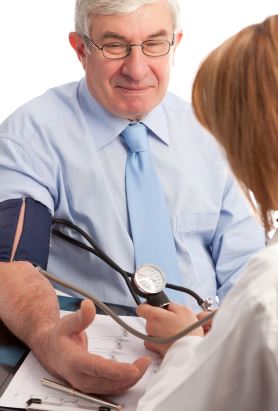 Like most physicians, I feel extremely rushed during the course of my work day. And every day I am tempted to cut corners to get my documentation done. The "if you didn't document it, it didn't happen" mantra has been beaten into us, and we have become enslaved to the quantitative. It's tempting to rush through physical exams, assuming that if there's anything "really bad" going on with the patient, some lab test or imaging study will eventually uncover it. Just swoop in, listen to the anterior chest wall, ask if there's any new pain, and dash off to the next hospital bed. Then we construct a 5-page progress note in the EMR, describing the encounter, our assessment, and plan of care.
Focused physical exams have their place in follow up care, but I strongly urge us all to reconsider skimping on our exams. A fine-toothed comb should be used in any first-time meeting – because so much can be missed as we scurry about. Some examples of things I discovered during careful examination:
1. A pulsatile abdominal mass in a woman being worked up for dizziness.
2. New slurred speech in an edentulous gentleman with poorly controlled hypertension.
3. A stump abscess in a 2-year-old leg amputation.
4. A bullet lodged in the scrotum.
5. Countless stage 1 sacral decubitus and heel ulcers.
6. Melanoma.
7. Rashes that were bothering the patient for years but had not previously been addressed and cured.
8. Early cellulitis from IV site.
9. Deep venous thrombosis of the calf.
10. New onset atrial fibrillation.
11. Thrush.
12. Cataracts.
13. Peripheral neuropathies of various kinds.
14. Lateral medullary syndrome.
15. Surgical scars of all stripes – indicating previous pathology and missing organs of varying importance.
16. Normal pressure hydrocephalus in a patient who had been operated on for spinal stenosis/scoliosis.
17. Parkinson's Disease in a patient with a fractured hip.
18. Shingles in a person with eye pain.
19. Aortic stenosis in a woman with dizziness.
20. Pleural effusions in a man complaining of anxiety.
Oftentimes I don't find anything new and exciting that is not already a part of the patient's medical record. But a curious thing happened to me the other day that made me reflect on the importance of the physical exam. After a careful review of a complex patient's history, I discussed every scar and "abnormality" I discovered as I did a thorough head-to-toe review of his physical presentation. His aging body revealed more than he had remembered to say… and as our exam drew to a close, he reached out and offered me a fist-bump.
It was charming and unexpected – but made me realize the true importance of the thorough exam. I had gotten to know him in the process, I had earned his trust, and we had built the kind of therapeutic relationship upon which good healthcare is based. No EMR documentation effort was worth missing out on this interaction.
You may not uncover a new diagnosis on each physical exam, but you can gain something just as important. The confidence and respect of the patient.