At ten months of age I had a life-threatening condition that required risky abdominal surgery. The pediatric surgeon had to open my belly from end to end, right above my umbilicus. I lost most of my colon in the process, but the only apparent long term effect was an impressive seven-inch scar. After forty years of living, the scar had become "stuck," resulting in a preponderance of skin slowly increasing its droop over the old gash. Basically, I had a non-clothing-induced "muffin top" and no amount of diet and exercise would improve it.
So off I went to the plastic surgeon, knowing that he couldn't erase the scar but could improve the contours of my abdomen. In effect, I could retain my current appearance (that of a woman who had a permanent belly indentation caused by a lifelong history of wearing high-waisted pants that were two sizes too small) or I could opt for surgery and embody the look of an athlete who had picked a fight with Zorro. The choice was clear. I would settle for the long slice on a thin belly.
The problem with being a doctor under the knife is that you know exactly what the other guy is doing. This procedure was completed under local anesthesia, and so I was chattering away with my surgeon the entire time. Although it took us at least half an hour to numb the area, I could still feel every tug and pull, hear the click of forceps, and the crunch of clamps. It was a little unnerving to have one's abdominal flesh wide open to the world – something I'd only expected of my patients previously. So my surgeon snapped a photo for my blog (see above) though I opted out of looking at the image in the middle of the procedure. I have my limits.
So why am I sharing this with you, dear readers? Well, I do have a few tidbits of advice for anyone who is planning to undergo a substantial cosmetic surgery under local anesthesia. I hope these are helpful:
1. Wear a comfortable pair of undies. The unisex/unisize disposable options available at the surgical suite do provide comic relief – if you think you'll be needing that. The pair that I received were the color and texture of surgical booties and about the right size for a guy in the WWE.
2. Try not to kick the surgical assistant(s) during the numbing portion of the procedure (or during any other portion come to think of it). Let's face it, lidocaine hurts. Each injection feels like a bee sting, and if you've got a lot of surface area to cover, you're going to be spending the first half hour (or more) squeezing something with great vigor. Which leads me to my next tip: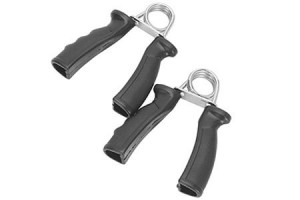 3. Find something firm to grip during the procedure. I found the surgical table arms to be nicely padded and an adequate thickness for death grips. I did wonder if I should have brought one of those "stress balls" with me, or perhaps a pair of hand grip strengtheners from a local gym (see image to the left).
4. Be prepared to make small talk with your surgeon for an hour or more. Preparing some "talking points" in advance could have made my patter more amusing, I suppose. But the art of distraction is a valuable asset in wide-awake surgeries. Your nervousness may actually make you a little extra charming, so don't worry about what you say. Just do what it takes to keep your mind off the situation.
5. Don't put your hands in the sterile surgical field. At certain times during the procedure your surgeon is likely to happen upon a spot that isn't fully numb. You will probably respond with a squeal (or kick) and a loud "Ow!" The surgeon will then ask you what you are feeling and you must resist the urge to show him/her by pointing at it. Many an abdominal wound has been accidentally poked by well meaning patient fingers. Be careful! Just say you feel something sharp and the surgeon will know where it hurts… because he/she just did something to cause the reaction!
6.  Get detailed post-op wound care instructions. You'll probably exit the surgical suite with a lot of gauze and tape all over you, and it will occur to you later on that you haven't the faintest idea when it's safe to remove it. Can it get wet? Should you remove the steri strips? When do the stitches come out? When should you begin to use silicon scar gel? Do you need neosporin? Make sure you ask these questions before you're released back into the wild.
7. Ask about movement restrictions and exercise precautions. You may be surprised by how restricted your movement should be in the first two weeks after surgery. I guessed that back flips would be counter-productive in my case, but didn't realize that I couldn't "walk fast" or twist at the waist. Make sure you understand what you can and can't do to optimize your healing.
8. Take some pain medicine at least an hour before the local anesthetics are due to wear off. This was my biggest mistake. I asked if the wound would be painful later on and my surgeon denied any knowledge of potential post-op pain. So, six hours later when I felt as if someone had attacked my belly with a blow torch, I found some comfort in a maximum dose of ibuprofen and a vodka martini (and for those who know me well – yeah, I couldn't finish the martini because it tasted gross).
9. Keep the scar protected and moist. Healing skin loves to be moist, especially early on. Ask your surgeon how best to accomplish that.
10. Get the stitches out on time. Don't leave them in too long or you will be at risk for a larger or thicker scar. Disolvable stitches are convenient, but they do cause more inflammation which can lead to larger or more robust scar formation.
11. Tell your surgeon that you love the results (if they're good!!) He/she will really appreciate the feedback.
I'm very pleased to report that my abdominal recontouring was a success, and I hope you'll learn from my mistakes if you've got one coming up. Now I must strive to keep a new muffin top from growing by eating a healthy, calorie controlled diet (excluding real muffins!?) and exercising regularly. 😉