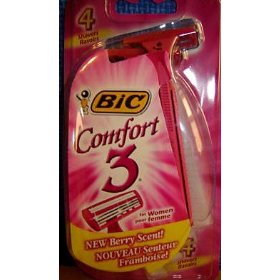 Will marketing wonders never cease? A strange, candy-like smell filled the shower today as I pondered my new razor, holding it gingerly to my nose. Yes, in fact Bic saw fit to make it berry-scented. Why would anyone want their razor to smell like food? What's next, chocolate scratch-and-sniff oil filters?
I was about to make fun of the Bic marketing folks, when I suddenly realized that the razor was in my house because someone bought it… Though I maintain that it was my husband's doing – and that he probably didn't even read the small print on the package.
He probably bought the razors because they were on sale. Though now I have a strange fruity craving… and smooth legs.
Thank you, America.