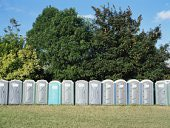 A blogger friend of mine referred me to an article about a female runner struggling with gastrointestinal distress. She asked for advice regarding how to prevent the "runner's trots" and felt fairly mystified regarding its cause. Since up to half of runners face this problem at some point (especially women), I thought I'd post some advice that comes from experience… ahem.
The urge to use the restroom during exercise is caused by increased intestinal motility, likely triggered by any (or all) of the following:  jostling of internal organs, relative intestinal ischemia (decreased oxygen getting to the intestines as blood is diverted to the muscles for work and to the skin to cool the body), dehydration, and adrenaline-related anxiety/stress hormones. I've noticed that hot weather greatly increases the likelihood of runner's diarrhea as it contributes to additional blood diversion as well as dehydration through excessive sweating. Basically, don't be surprised if you need to plan your summer runs around bathroom stops.
That being said, there are a few things that can decrease the urgency and frequency of this unpleasant intestinal drama:
1. Watch what you eat before your run – avoid fiber, caffeine, fake sugar, or anything that generally makes YOU have to move your bowels more frequently (milk and/or soy products are a culprit for some). Ideally, these things should be avoided up to 12-24 hours before you run.
2. Stay hydrated. Get ahead of the game by drinking a liter of water before your run and continue to hydrate during exercise (as appropriate for the climate and your effort level.)
3. Run at a slower pace if the weather is hot. I often find that dropping the pace by a minute or two per mile can magically reduce the intestinal symptoms.  Interval training can help you challenge your speed limits while offering active recovery periods for your body to cool down and let your gut chill out.
4. Run in the morning when it's cooler and you've had less to eat. Running after a day full of eating is looking for trouble.
5. Try to evacuate your bowels before your run – this is fairly obvious, but take the time you need to get this taken care of.
If the weather is hotter than 85 degrees, I'd consider running on a treadmill in an air conditioned space.
I found this comprehensive list of strategies to avoid the trots quite helpful. Please check it out – and good luck on your summer runs and races. Perhaps we'll cross paths at a rest stop near you!