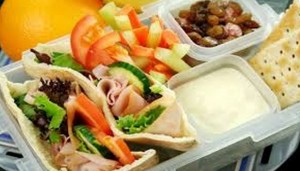 I'm very excited to be the nutrition coach for the Boys & Girls Clubs' Fit Family Challenge again this year. In surveying the finalist families, I discovered that the two most important nutrition issues on their minds were cooking speed and food affordability. Far down the list were things like food allergies, weight loss, and nutrition basics.
Contrary to popular belief, healthy eating doesn't have to be expensive. A new study showed that a healthful diet only costs an average of $1.50/day more than an unhealthy diet, and the additional cost is mostly related to the expense of leaner protein sources. So with a little bit of shopping savvy, you can change your family's nutrition without breaking the bank.
Since busy moms and dads are always looking for ways to provide fast, nutritious meals for their children, I thought I'd provide some tips for doing so on a budget. These are strategies that I also use when I'm traveling across the country, working long hours at hospitals with only a microwave and small refrigerator available, and very little time for meal prep. If your day is frantic, and you don't have much time to cook, then these tips are for you! (I'm not saying we're going to win any culinary awards for these meals, but they are very practical. Please use your own favorite herbs and spices for flavor. I have added links throughout this post to show you examples of products I've used and like – but there are many other good ones out there!) 😀
1. Tupperware. Make sure you have lots of plastic storage containers (Tupperware or other brand) and baggies in various sizes. You can reuse the containers and portion out food into single serving sizes in advance. Don't worry about finding containers that are "BPA-free" – they may cost more and fifty+ years of scientific studies (reviewed by the U.S. Food and Drug Administration) have determined that they are safe for microwave use and food storage.
2. Prepare meals ahead of time. Set aside one day a week where you will fill containers and baggies with single serving sizes of 1) protein, 2) fruits/veggies, 3) nuts/fats, and 4) complex carbohydrates. Each meal should include one of each. Snacks can contain two or three of the four groups. Each family member can quickly grab portions for their meals, lunch boxes, or snacks, and you can make up plates for dinner by reheating them in the microwave.
3. Fast protein. Pre-cooked, grilled chicken or turkey strips can be found in the refrigerated or frozen section of your local discount store. Four ounces of grilled chicken is a good serving size, and make sure you choose the chicken without sauce or chemical flavorings as your healthiest option. One serving takes about a minute to reheat in the microwave. Other great sources of protein include plain Greek yogurt (a serving is 1 cup), protein powder (whey, egg, or vegan sources), pre-packed hard-boiled eggs, canned tuna or fish in water, smoked salmon, and low-fat cheese sticks.
If you have a stove and 4-8 minutes to spare, quick-fry pork chops, lean beef, fish fillets, or egg beaters (plain, liquid egg whites in a carton are even better) with low-fat shredded cheese with a few chopped veggies can make a great omelet that's fast and affordable.
You can make egg whites in a microwave (spray a microwave container with a little bit of pure olive oil cooking spray) and cook for one and a half minutes per serving. Top with salt, pepper, cheese, and maybe a little ketchup if you like that. Super fast, super healthy.
In a pinch, beef, pork, and natural turkey jerkies are very portable protein sources. However, they can be expensive, and you must look for the all natural varieties (not the jerky full of salt and chemicals at various truck stops across the country).
4. Fast fruits & veggies. Fruits are pretty easy because you can chop them up or peel them quickly, but if you don't want to chop them too far in advance, pre-made fruit cups are a little more expensive, but very convenient. Make sure you choose the fruit that is packed in its own juice, not syrup.
As far as veggies are concerned, some can be enjoyed raw (celery, carrot sticks, lettuce, tomatoes etc.) but others need cooking. The fastest way to cook most fresh veggies is to steam them in a microwave. Stores now pack veggies (such as green beans, broccoli, and snow peas for example) in "steam-in bags" where you can just puncture the bag with a fork and then microwave the veggies for a couple of minutes. If you're buying veggies in bulk, you can purchase  "Zip n' Steam" bags and use those instead. I've used these bags for everything from butternut squash to corn on the cob. They lock in all the vitamins and minerals that you may loose in a boiling or canning process.
Otherwise, frozen veggies are very convenient and are pre-chopped. Canned vegetables are also rich in vitamins (though they tend to lose the water soluble A&B vitamins so you'll need to get those from your fruits or a squeeze of lemon in your water) and very easy to heat and are affordable.
5. Fast fat. Mostly, what I mean by healthy fats is nuts, seeds, and vegetable oils (especially olive). Fats are rarely cost-prohibitive and it doesn't take much to "prepare" them. Healthier nuts and nut butters are plain (no sugar or salt added). Avoid candy-coated nuts, sugary spreads, or trail mixes that have "yogurt-covered" anything or chocolate added. Go easy on the dried fruit as it is a simple sugar. Cook with olive oil or olive oil spray when you can. Limit your animal fat intake (butter, high-fat cheese, lard, bacon) as it is not as healthy for you as vegetable sources.
6. Fast complex carbohydrates. I'm a big fan of brown rice. It's very inexpensive and reheats well with a little moisture in the microwave. You can purchase the rice dry (this is the most affordable way, but you'll need to cook up a big batch once a week), or pre-cooked in microwavable bags or containers. Brown rice grits, corn grits, cream of wheat, and oats all make quick, microwavable portions of carbs. Whole grain tortillas take 15 seconds to heat in the microwave and can be used as a wrap or side-dish. Whole grain breads, sugar-free whole wheat cereal, canned beans, hummus, and sweet potatoes (not in syrup) are all fast and affordable.
7. Drink water. It's free, it's everywhere, it has no calories. Water is the healthiest fluid source available, so make use of it. To save money, you can re-use plastic water bottles by refilling them with tap water. If your tap water doesn't taste great, a squirt of fresh lemon or lime juice (along with keeping it colder) should solve the problem. Sugary sodas, juices, and energy drinks should be limited. Club soda, sparkling water, or diet sodas are a better choice if you are craving carbonation. Skim milk, almond, rice, or soy milk are healthy options as well.
8. Buy in bulk. So now that we have broken down the healthy, affordable diet into its four components and fluids – it's time to stock up! Buying large quantities of your favorite non-perishable items can save money. Consider cost-sharing with another family, coupon-clipping, and price-shopping. Some items that you normally don't think of as frozen goods actually store very well in the freezer – bread, tortillas, nuts, and bananas for example can last for months in the freezer. For a review of the best grocery items to buy in bulk, see this slide show.
9. Skip the organic food. Organic products are very expensive and do not provide a significant nutritional advantage over regular foods. You may wish to buy organic food to support your local farmers or because the items are fresher-looking or their packaged goods may have fewer preservatives or added ingredients, but don't spend your last penny on organic foods because you think it's the only way to keep your kids well-nourished. As far as reducing your potential exposure to pesticides, organic foods may reduce pesticide exposure by 30%, not exactly the "pesticide-free" level that some would lead you to believe. Most experts (including the FDA) agree that the amount of potential pesticide residue found on fresh fruit and vegetables is too low to pose a significant risk human health. Washing fresh produce with soap and water, or removing the skin, can further reduce levels if you have concerns.
10. Don't waste money on vitamins and supplements. Although it seems like a good idea to provide your children with extra vitamins in pill-form, the majority of U.S. children and adults (according to large CDC nutrition studies) are not deficient in any vitamin or mineral. Our fortified food sources, even with sub-optimal diets, are doing a surprisingly good job of getting us all the nutrition we need. If your doctor has determined that you or a family member has a nutritional deficiency, then please follow their advice regarding supplementation. As for herbal supplements, be very careful of those since recent studies have shown that they often don't contain the active ingredients on their labels and may even contain harmful allergens instead.
There are probably many other terrific ideas that you've discovered on the path to feeding your family quickly and affordably. Please share them on the blog so we can expand our creative meal planning together! I'll be thinking of the Fit Family finalists as I enjoy my brown rice and green pepper chicken fajitas in my hospital microwave this week!