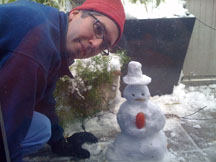 Like a good Rochesterian (Rochester, NY that is), my husband decided to shovel the snow off our balcony after the 2-foot-deep deposits threatened to melt into our condo's window cracks. I was comfortably blogging away in our living room when I looked up to find Mr. DrVal had built me a miniature snowman, complete with a heart made from the last tomato of our now fully dead Roma tomato plant.
A few amazing things about this photo: 1) How can ripe tomatoes still be growing at the end of December in Washington, DC? 2) How did he get Frosty's hat to stay on his head? 3) How did he find my secret scrub stash and why did he wear them out to shovel snow?
Anyway – I'm sure you'll agree that this is a rather charming and creative way to spend a Sunday after a snowstorm. But watch out, Frosty: I'd like to eat your heart out!